Most people associate dumplings with Asian cuisine, but in fact, they are common fare in a myriad of countries, although they may be recognized by different names. Whether sweet or savory, they're made in a wide assortment of shapes and sizes, with fillings just as diverse.
Diverse representation is at the heart of the second annual BC Dumpling Festival, taking part on August 12 from 11 a.m. to 8 p.m. at Coquitlam's Town Centre Park, and hosted by the non-profit Asian Arts and Culture Society.
"It's an honour for us to carry this on from last year's success, and use the dumpling to cross bridges with all cultures," says Al Lau, director of the Asian Arts and Culture Society and co-founder of the BC Dumpling Festival.
The concept evolved out of an initial idea from Coquitlam Heritage Society for a community event that celebrates multiculturalism. However, after Gina Chong became a victim of an anti-Asian hate incident at Town Centre Park, she was determined to create awareness and inclusion and stand up for anti-racism. As a result, Chong launched the Asian Arts and Culture Society and became the festival's co-founder with Lau.
"We're also using the dumpling to celebrate our commonality rather than our differences," explains Lau, "The festival is not just about eliminating hate for Asian Canadians, although that's certainly the centre of it."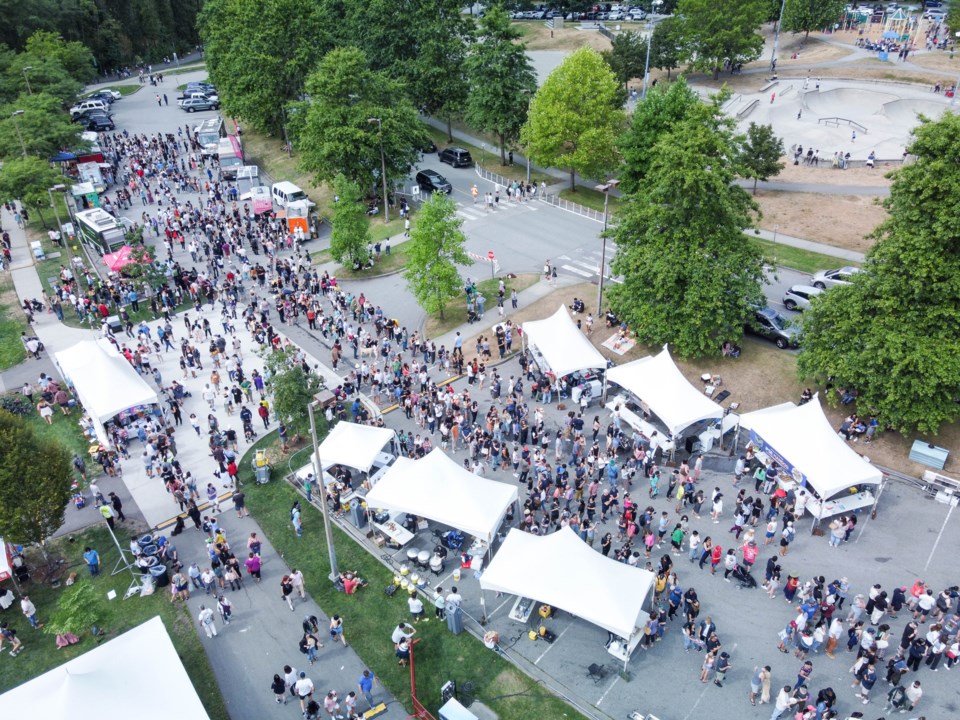 Global cuisine, community connection
The festival celebrates inclusion of Coquitlam's diverse community, which promotes connection and provides an opportunity to break down differences and build relationships. It's a place where families, friends, neighbours, community organizations, and businesses from various cultures can bond over food, entertainment, and laughter.
"Coquitlam's such a great community to host an event like this because it's very well-balanced in diversity," acknowledges Lau.
According to Stats Canada, the average immigrant population in Coquitlam in 2021 was 48%, with English, Chinese, Korean, Persian (Farsi), and Italian cited as the top languages spoken at home.
These cultures, and more, are represented with dumplings such as: mandoos (Korean), wontons and baos (Chinese), plant-based vegan momos (Indian), raviolis (Italian), siopaos (Filipino), Jamaican patties (Jamaican), samosas (South Asian), and pierogies (Eastern European), just to name a few.
In 2022, an estimated 45,000 dumplings were sold by 10 dumpling vendors, and this year, 13 will participate. "New for us is House of Yee Fine Foods, with their gluten-free and vegan dumpling," says Lau. "We try to include as many different varieties as we can, with health-conscious options as well."
Expect fillings to include various ingredients from shrimp, pork, and beef, to chicken and vegetables, and of course, something spicy, and a dessert dumpling, too.
Entertainment, vendors, cultural pavilion
"New this year, and moving forward, we'll be highlighting a country to inject some variety and education, so, we'll have a Korean pavilion this year and the consulate general of Korea will open the festival," reveals Lau.
Various food trucks will be on-site, as well as, over 30 non-food community vendors, local businesses, artisans, plus an art showcase. Expect live stage performances full of music, dance, drumming, vibrant costumes, and more. Plus, don't miss your favourite politician in the dumpling eating contest!
"We want everybody to come out and enjoy some dumplings, but also understand that we're much more than a food festival—we're a cultural celebration," says Lau.
Conceptualized by the non-profit Asian Arts & Culture Society, BC Dumpling Festival is proud to remain a free festival (with no entrance fee) once again this year, with thanks to their major sponsors City of Coquitlam, Marcon, and RBC. For more information, visit bcdumplingfest.ca