The City of Coquitlam is ready for winter. Are you?
Residents are being asked to prepare for the storm season, before extreme weather hits. And being winter wise is not just having your snow shovel at the ready, says the City of Coquitlam's director of public works, Brad Lofgren. "Winter in the Lower Mainland is not all about snow. It's also about heavy rains and windstorms," he says.
The City's Adopt-a-Catch Basin webpage provides a map tool to help residents find the nearest catch basin, which may require clearing of fallen leaves and debris, or of snow..
When snow is in the forecast, residents have a huge part to play in ensuring roads and walkways are cleared and safe for use.
When to expect snow to be cleared from your street
"We have close to 1,200 kilometres of roads in the City, so when we get these events, we have to have a priority system," Lofgren says.
During a snowstorm, the City removes snow in the following order:
Priority 1: Collector, arterial, and emergency and bus routes that connect major sections of the community.
Priority 2: Non-arterial and collector routes that provide access to school sites and community care facilities, as well as subzones containing a high percentage of local roads with grades in excess of 10%, during ice and snow events.
Priority 3: All remaining routes.
Residents can report an area of concern using the City's real-time Coquitlam Snow Response Request tool. For the 2022-23 season, the tool recorded 1,300 service requests for streets, 188 for sidewalks and 81 for street and sidewalk combined.
"Where it's really effective for us is especially towards the end of events, where residents can notify us of areas that potentially were missed," Lofgren says. He urges patience, however, because while snow is falling or until the primary roads are cleared, the City will not address local roads or lanes.
Waste collection services may also be affected by snow events. Residents are asked to place bins out on collection day and get service disruption alerts via the Coquitlam Curbside app.
Respect road closures and parking restrictions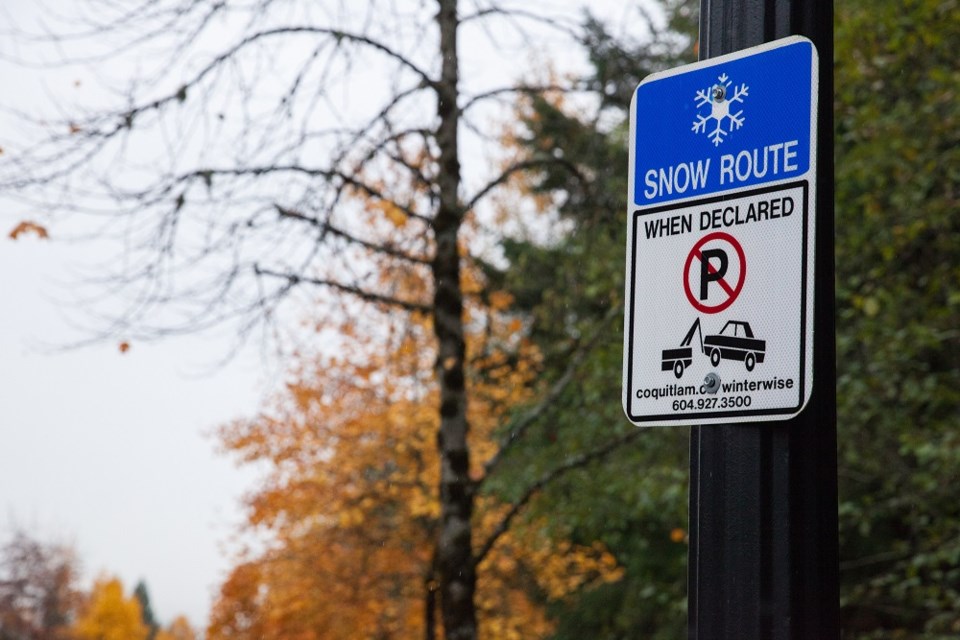 Cars parked on key roadways impede snowplow efforts. To aid work crews, drivers and residents are asked to adhere to posted parking restrictions indicated on street regulation signs citywide.
Do this, and you'll avoid digging out your vehicle – or worse, getting a ticket or having your vehicle towed.
Parking restrictions are activated in several areas of the City every time snow is in the forecast until the end of snowfall and the streets are clear. If you live in one of the areas listed below, you'll want to sign up for the City's Winter Parking Restrictions notifications Notify Me email list to receive notifications when the no parking restriction is declared and avoid a fine or towing.
Blue Mountain Street
Chilko Drive
Corona Crescent in the Chineside area
Dolphin Street
Hamber Court and Pritchett Place on Burke Mountain
Highland Drive
Keets Drive
Lansdowne Drive
Solar Court
Strawberry Hill Street
Westwood Plateau - Berkshire Crescent, Braeside Place, Chartwell Green, Firestone Place, Johnson Street (above David Ave.), Norwood Court, Parkway Boulevard (from Panorama Drive to Plateau Boulevard), Pinetree Way (above David. Ave.), Plateau Boulevard, Topaz Court and Turnberry Lane
Shovel your sidewalk: It's your responsibility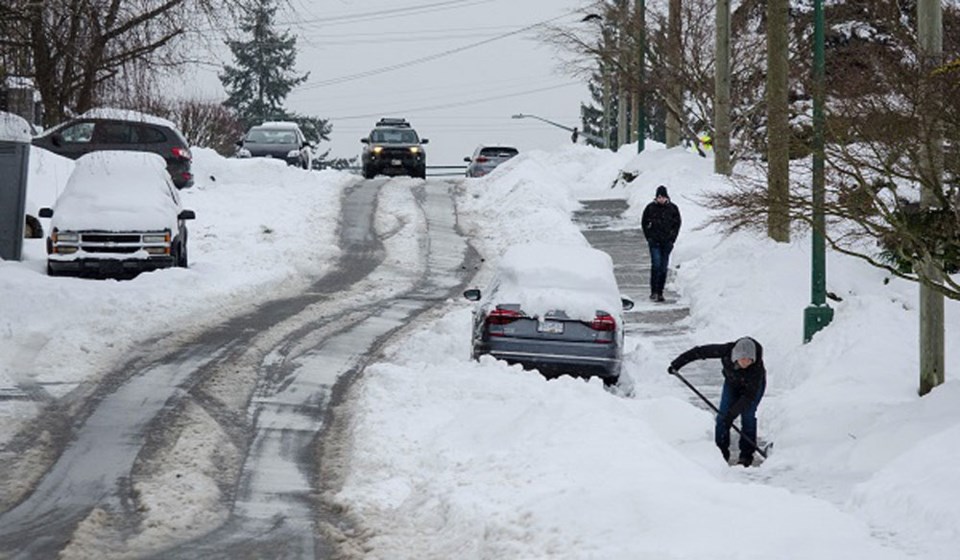 Did you know that after a snowfall, residents must clear their sidewalks within 10 hours? The City recommends shovelling snow onto your yard to the right of your driveway when facing the street. If you shovel snow incorrectly and onto the street, "when the snowplow comes along, it actually rolls snow and pushes it back onto the driveway," Lofgren says.
Be a snow angel
Not everyone is capable of clearing snow from their sidewalk. The City's Snow Angel program assists seniors and those with mobility or accessibility concerns by matching them with a neighbour who can offer a helping hand. Volunteers must be Coquitlam residents age 16 or older, and are encouraged to sign up now. To access support from the program, residents in need must complete a Snow Angels Application Form on the City's Snow Angels webpage.