Parents not only hope their children are nurtured in a safe learning environment but also wish for them to be challenged and experience the academic rigour necessary to allow them to complete Grade 12 with a multitude of options before them.
At New Westminster's Urban Academy, students receive the materials and motivations necessary to thrive through multifaceted opportunities across an engaging and integrated set of programs, learning about real life through the arts, technology, sciences, and outdoor education.
An Urban Academy education upholds an unyielding dedication to prepare students academically through their challenging curriculum with inquiry-based learning while meeting their social and emotional needs, providing the ideal environment for them to become well-rounded adults.
Their new state-of-the-art facility uniquely accommodates Junior Kindergarten (JK) through Grade 12.
"I'm proud of the connection we have with our students and families," says Mike Slinger, head of school, Urban Academy. "Everybody's here because they have chosen to be here, and that permits us the opportunity to build a community that's difficult to recreate elsewhere."
Slinger highlights how the academy's unique structure and facility allow teachers and staff to know all the students.
"You can't underestimate that connection—that sense of belonging—where you are known," he says.
It's a reality that resonates with Ken, a student from the class of 2023: "When I walk into Urban Academy, I feel like I just walked into my home. I'm not afraid to express my emotions, and I'm not afraid to go up to classmates or teachers and talk about my day."
Junior school program, K – grade 3
Urban Academy inspires students to develop awareness of their identities and what they're passionate about in the junior program.
The school has additional resources in place for their programs, such as a health and wellness teacher, French specialists and social-emotional counsellors for junior, middle and senior students, an academic and university counsellor.
'We have a number of staff connected to the kids through P. E. specialists, tech specialists and art specialists," reveals Slinger. "Our program is very rich."
The kindergarten application deadline is November 15, 2023. Parents who are interested in learning more about the program are always invited to come to upcoming open houses and information sessions.
Middle school, grade 4 – 7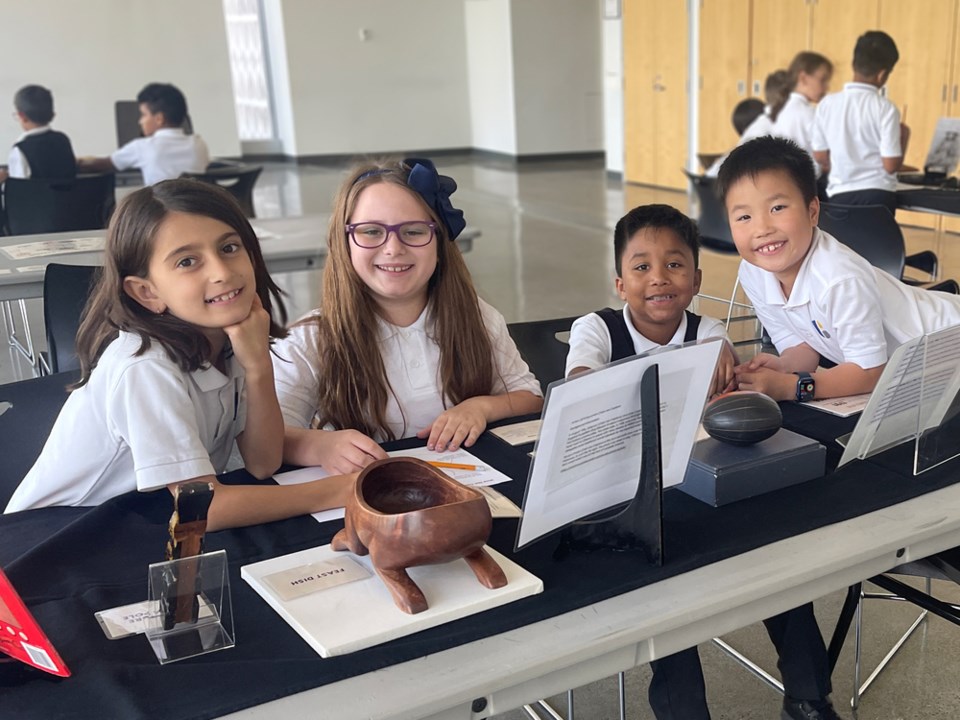 "In middle school, we push a lot of big inquiry projects where kids dive into passion areas (teachers call them a variety of different things) and develop their presentation skills," explains Slinger.
"These kids become well versed in speaking and performing in front of groups because these students are also exposed to our full music and performing arts programs."
One student expressed, "I appreciate UA's variety of options for arts. I was introduced to drama, theatre company, show choir and wind ensemble, and these experiences will continue to reshape my life, and I'm forever grateful."
Slinger continues that middle school allows students to broaden their horizons further.
"In middle school, we can really guide students and set them up for success and nourish their passions, and I think we do a really good job there with our programming."
Middle school students draw meaningful connections between academics and the real world, understanding the context of their education and purpose of their studies.
"We're educating for whatever tomorrow brings," Slinger says. "We're figuring out what the paths may be, and ultimately, we know our kids will need skills in adaptability, flexibility, and resilience."
For more information, visit urbanacademy.ca, and for admissions and open house dates, visit urbanacademy.ca/admission.