Lights at Lafarge and Mackin Winter Lights, Metro Vancouver's largest free outdoor lights display, is back for its annual winter spectacle, and Coquitlam's Light Brigade is calling on the community to join in the festive fun.
The event encourages people of all ages and abilities to get outdoors and enjoy the magic of the holiday season while staying active.
The Park Spark Brigade welcomes volunteers of all ages and abilities, including SD43 students, local businesses, volunteer and community groups, families and individuals. In 2022, over 1,000 volunteers contributed to the event, and they are hoping for even more participation this year.
This year's lights display has been reworked to feature new display elements.
"There will be some reimagined elements this year, and lots of opportunities to experience new things," parks services manager Sara Yastremski says.
"We're really trying to give people a different experience from years prior because people come year after year, and we want to have new elements for them to see."
One of the most remarkable aspects of Lights at Lafarge and Mackin Winter Lights is the strong sense of community involvement it fosters. Volunteers come from all walks of life, making this event a true representation of the Coquitlam community's spirit.
"People love having the opportunity to get involved in design, and fabricate lit elements. It's amazing to see how many people get involved, showcase their civic pride and take ownership for this display," Yastremski says.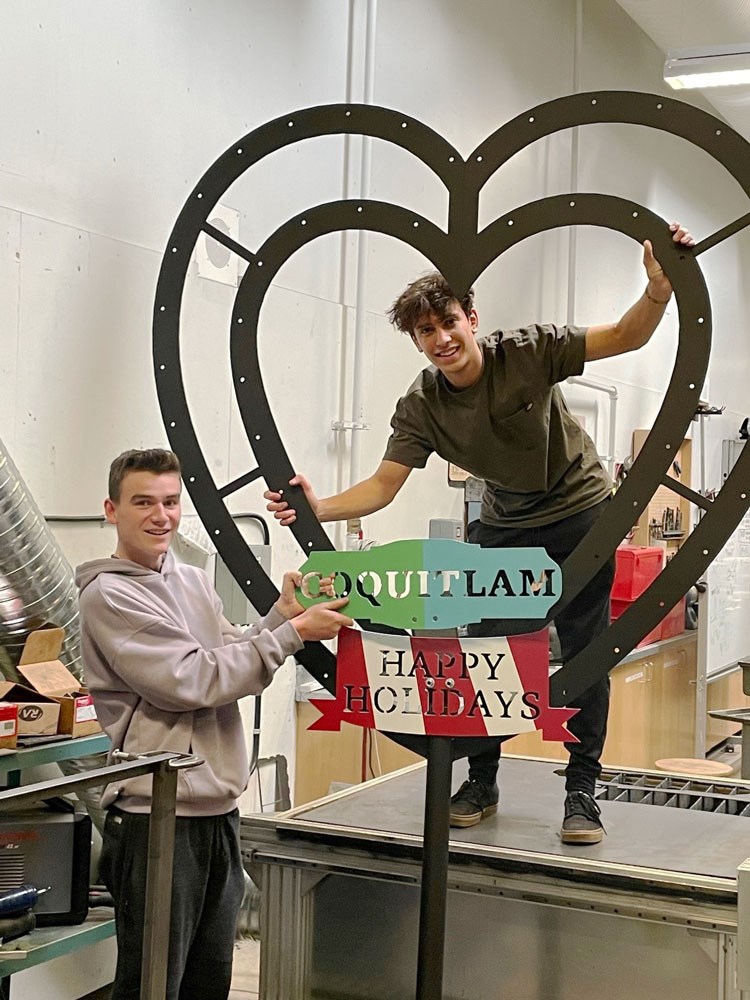 There are lots of ways to contribute to this year's community event:
Fabricate lit elements
The Light Brigade invites individuals to design and create elements for the light displays. You don't need to be an artist to participate; anyone can contribute their ideas. For example, last year, volunteers designed pop bottle tulip lights by repurposing used bottles for the display.
Install special displays
Volunteer opportunities are staggered throughout November, where you can work with park staff to set up the display. You'll also learn how to safely put up lights and assist in creating the enchanting displays.
Take part in light-making workshops
The event hosts a series of workshops in September, October, and November, offering pre-scheduled or drop-in sessions for people to volunteer their time and contribute to the light displays. You can create something small or big, leaving your mark on this magical experience.
Host a night throughout the season
Light Brigade Hosts are encouraged to enhance the park visitor experience by engaging with the community while getting involved in interactive activities during the lights display. These activities can range from caroling and workshops to unique experiences like scavenger hunts and themed nights. The goal is to provide a diverse and engaging park experience for visitors each night of the display.
Engaging workshops
For those interested in a hands-on experience, the light-making workshops offer a chance to let your creative side shine. These workshops are not only about creating beautiful displays; they're about making memories and leaving a mark on this beloved tradition.
​Lights at Lafarge and Mackin Winter Lights is an accessible event that is easily reachable by SkyTrain or bus, and there is ample parking available. Moreover, the event encourages people to embrace the outdoors during the cold winter months. The 1.2 km loop provides a perfect setting for families, friends, and individuals to come together, walk, and immerse themselves in the beauty of the lights.
For more information and to get involved today, visit www.coquitlam.ca/734/Park-Spark.