They train using wingnuts, PVC pipes, vaults, and something called a "warped wall."
The marquee move is known as a lache, which, of course, is executed by catapulting your body between two bars, not unlike an Olympic gymnast.
Welcome to the sport of ninja.
Yes. It's a thing. So much so that hundreds of competitors from across Canada will be at the Langley Events Centre from Oct. 7 to 9 for the first-ever Canadian Ninja League (CNL) National Finals.
We're not talking Shaolin monks, kung fu or the Sega Genesis video game franchise Shinobi. Instead, think of it as a marriage between parkour and rock climbing, where strength, agility, balance and endurance are key. The sport is largely based around the hugely popular TV show and worldwide phenomenon known as American Ninja Warrior.
"Some people look at the show and say, 'I think I can do that.' Most are like, 'No, there's no way. It's way harder than it looks.' But having a background in Parkour and Calisthenics, the more I watched the show, I kept thinking, 'I'm pretty sure I can do that," says CNL co-founder Ryan Chow.
"It is a pretty new sport. Most people ask us if we have staffs and swords and bows."
Spoiler alert: they don't.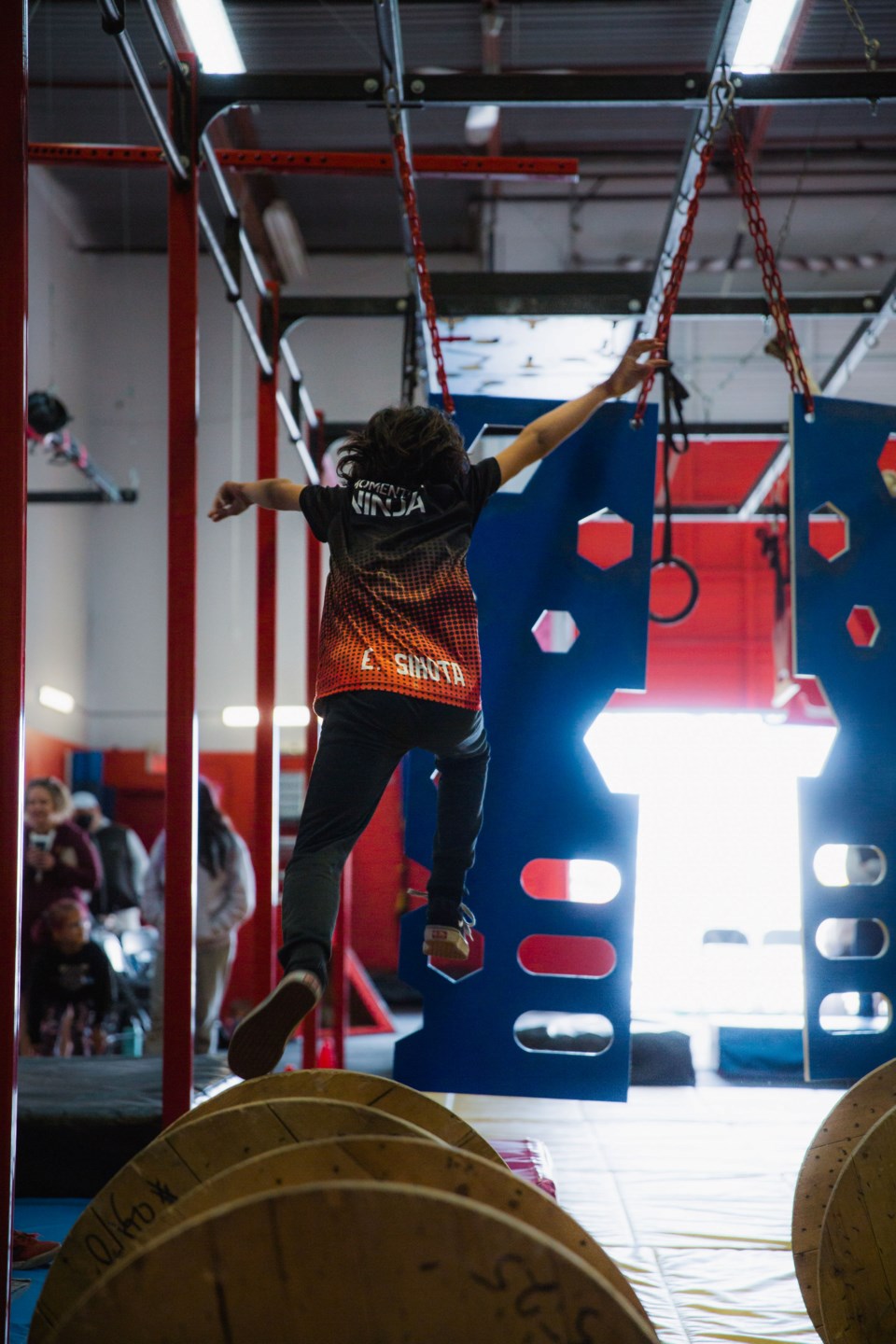 Instead, the sport of ninja involves traversing obstacle courses of varying degrees of difficulty. No two courses are alike, and competitors face all manner of trickery on a course: wooden structures that swivel, crooked barriers, ascending or descending obstacles, balance beams and even rolling PVC pipes.
"There's no real, hard definition of what an obstacle has to be," Chow explains. "It's about making obstructions creative and fun. There are a million obstacles you could create, and you could list them off for days. You have to get from Point A to Point B, and when someone puts an obstruction in your way, you have to ask yourself, 'how am I going to get through this?'"
Chow and his brother, Michael, are the masterminds behind Port Coquitlam's Momentum Ninja Training Centre, where the grunt work takes place to become a competent ninja. According to Chow, the sport is hugely popular with the younger set, in particular, though participants range in age up well into their 40s and beyond.
"The cool thing about ninja that especially families have picked up on is that mom, dad and the little ones can all compete, and sometimes they do all on the same course," Chow says. "You don't get that in soccer, hockey or lacrosse or other sports."
Xara Gobhai is proof positive of that feeling of inclusivity. The host committee chair for the upcoming nationals, Gobhai maintains that the world of ninja is very much a family affair, right down to her 11-year-old daughter.
"We're one of those families where my husband, my daughter and I all train together," Gobhai describes.
This brings us to the lache, the holy grail move in ninja, much like passing a ball in soccer or basketball.
​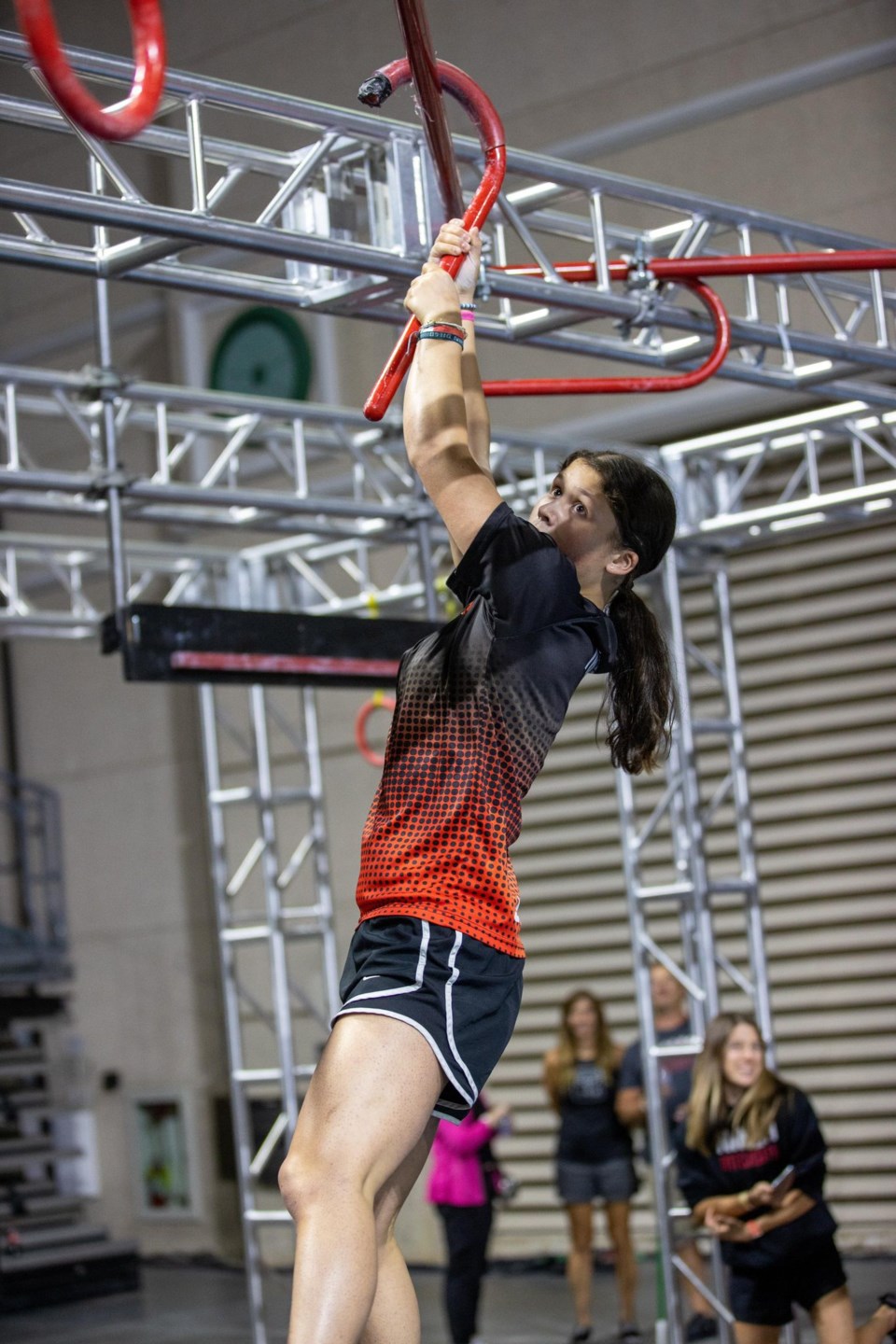 ​"If you're swinging on a bar and there's another bar that's too far to grab, you have to swing, throw yourself off the first bar and catch your body on the second bar," Chow explains. "A lache is like a staple of the sport."
The format for the nationals will see competitors divided by age group and gender.
Preliminary runs on October 7 and 8, based on speed and strength, will determine who goes through to the finals on October 9. At that time, competitors in the finals will be graded on best times and top scores – you score points each time an obstacle is completed.
The eventual victors will then qualify to compete on the world's stage.
"These competitors are really well-rounded athletes," Chow continues. "It requires a lot of full-body awareness, agility, coordination, balance, strength and grip strength, in particular, but it's also about being adaptable to what's in front of you."
Like any bigtime sporting event, volunteers are the motor that drives the whole thing. To that end, organizers with the CNL national finals are looking for dozens of people to lend a helping hand over the course of the weekend.
If you'd like to volunteer, visit canadianninjaleague.org/national-finals-get-involved.
If you'd like to check out what the sport of ninja is all about and cheer on local athletes, spectator tickets are also available! Learn more at canadianninjaleague.org/national-finals-registration.