When you feel your heart beating seemingly in two places—your chest and your throat, you know it's not a typical day. But that's the point. Chances are, on any given day, you don't normally step off a 40-foot-high platform into thin air. But you can. And before you know it, you've simultaneously stepped out of your comfort zone, too.
The WTF Jump (What's To Fear) at WildPlay Maple Ridge, is just one of the many thrilling treetop adventure elements that will push your limits and help conquer your fears.
Climb a 40-foot rope ladder while securely tethered to a jump line, then, experience the thrill of a free fall before slowly descending, landing softly on your feet.
Most elements are traversed from a squirrel's-eye view; you'll be out on a limb—literally. At its core, WildPlay is a tree-to-tree exhilarating recreation adventure to encourage you to play fearless. You'll climb, swing, balance, zip and zoom on a variety of elements like wobbly log bridges, ziplines (from 10 to 50m), ladders, rope swings, cargo nets and tightropes, throughout a 12-acre park.
WildPlay was established in Nanaimo in 2005 and opened in Maple Ridge in July, 2010. The park is designed for ages five-and-up with varying degrees of abilities and will uniquely test your comfort levels. Bring your positive can-do attitude and be prepared to be challenged on any of the 12 ziplines, 45 aerial adventure games, the 40-foot WTF Jump, as well as axe throwing.
"WildPlay Maple Ridge gives people an opportunity to experience emotions they don't normally feel on a day-to-day basis," says Kat Craats, assistant marketing manager.
"Whether they feel fear, exhilaration or liberation, say, while flying down a zipline, we champion brave vulnerabilities. By putting people in situations where they might feel vulnerable, we assure them they're completely safe and secure during their adventure."
Circle of Safety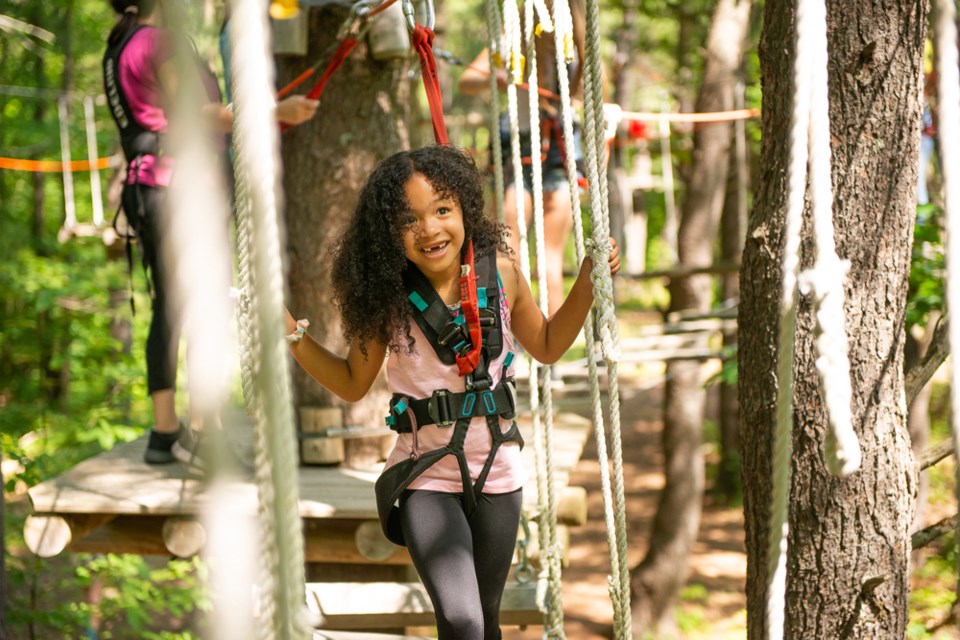 WildPlay is committed to maintaining high operational standards and holds safety and risk management to the highest degree.
"We conduct regular inspections and maintenance on all elements at the park," assures Craats. "Also, the continuous lifeline system ensures every guest is safely attached to the lifeline at all times while up in the trees."
In addition to these measures, there's a mandatory training session when you arrive at the park to help prepare and safeguard all participants.
"Everyone goes through the training course," says Craats. "We demo how all the gear works, and how to use the continuous belay system."
Adventure courses
More than just the physicality of the courses, the elements are designed to test your inner strength, in a see-what-you're-made-of kind of vibe, with the encouragement and empathy of WildPlay guides. "Our guides are supportive cheerleaders and risk managers, and they thrive on delivering the best possible experience," reveals Craats.
Explore the aerial obstacle courses: Classic, Extreme, and Kids (with games up to 60 feet high). Courses are self-paced, averaging 90 to 120 minutes for the Classic and 45 minutes for the Extreme.
Classic Course involves three levels rising higher and more challenging as you go. If you're looking to jumpstart your adrenal glands, the Extreme Course rises up to 60 feet, testing the most agile with harder gains.
You can really kick some 'axe' on the ground, too, when you tap into your inner Paul Bunyan with Axe Throwing. Keep score for a little friendly competition; hit the bullseye at the end of the 14-foot alley for 10 points!
Open February to December, host your next corporate team building event, birthday, bachelor/bachelorette party, school field trip and more, for a truly one-of-a-kind adventure. Save with group discounts and early bird pricing (up to $50 off) on season passes, until May 31. Also, skip the lines and save with Early Bird and Late-Day-Play pricing.
"Come for unforgettable experiences and discover the thrill and challenge of adventure like you won't find anywhere else," says Craats. "It's super awesome."
For more information, visit www.wildplay.com/maple-ridge or call 1-855-595-2251.