Dress to impress and kick up your heels for a good cause at the second annual Mayors' Charity Ball for a powerful way to create positive change. Don your formal attire (black tie) and mask yourself in mystery for The Show Theatre at Hard Rock Casino Vancouver on November 25, from 5:30 p.m. to 11:00 p.m., a fundraiser and glitzy masquerade ball that's sure to be an unforgettable evening.
Hosted in partnership with the Coquitlam Firefighters Charitable Society (CFCS) and the Port Coquitlam Professional Firefighters Charitable Society (PCPFCS), the gala's proceeds benefit the Nutritional Breakfast and Snack program for participating Coquitlam and Port Coquitlam elementary schools to ensure all children have access to a nutritional breakfast and snacks.
"The partnership between our societies holds immense significance," says James Anderson, gala chair and charitable vice president "The exchange of resources and expertise has been invaluable, and together, we can extend our reach to have a greater impact on our community."
The funds raised will also support other charitable initiatives, including the BCPFFA Burn Fund, the Muscular Dystrophy Association of Canada, the Movember Foundation, the SHARE Family & Community Services Society, and Firefighter Mental Health.
Last year's ball raised a record-breaking $135,000 to benefit local charities. This year, the new target is a minimum of $150,000.
An evening of entertainment and engaging activities
Dine on a delicious buffet inspired by the best of West Coast cuisine, focusing on fresh, locally sourced ingredients. Show off your best moves and get your groove on to live music by Double Overtime, a high-impact show bringing big energy with pop, rock, R&B, and more; DJ Michael Tedham from About Town Entertainment will also keep the mood lively.
Attendees can also expect a range of exciting activities, including a pipe band performance, the Second Annual Coquitlam vs. Port Coquitlam Fundraising Competition, a 360-video booth, a candy and sweets bar, and an online auction. CFCS is currently accepting online prize donations, and your support is greatly appreciated.
"This year, we have a range of enticing items in our silent auction, including shopping sprees, helicopter tours, Vancouver Whitecaps and Vancouver Canadians tickets, restaurant gift cards, and much more," says Anderson.
"Additionally, we're eagerly looking forward to contributions from the businesses in our community, such as one-of-a-kind experiences, exclusive products, and gift certificates, all of which will enhance the appeal of our silent auction."
VIPs, sponsors and gratitude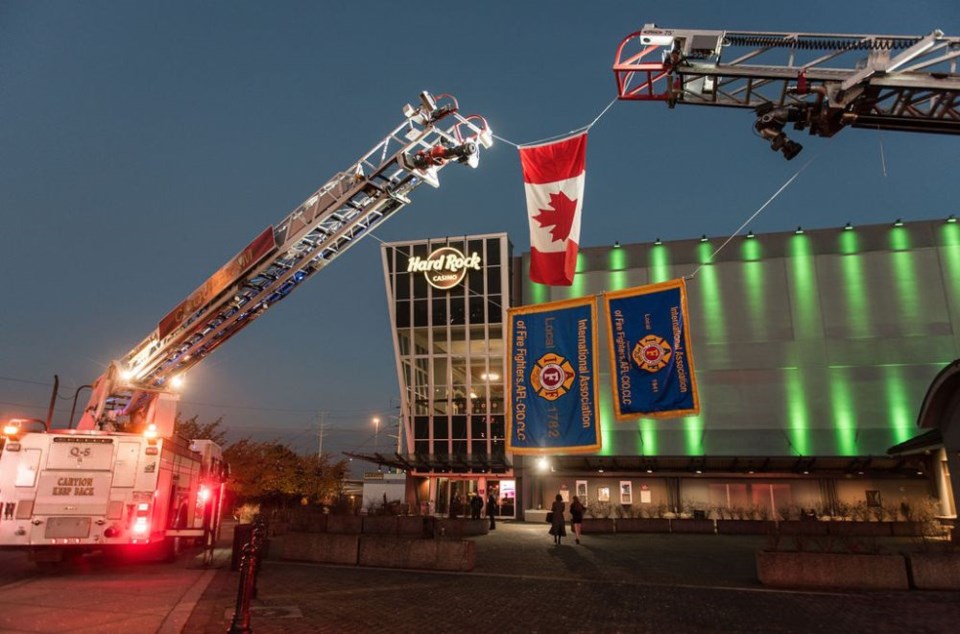 "We are profoundly grateful for the unwavering support of our sponsors," adds Joel Hamilton, vice president of Port Coquitlam firefighters. "Their commitment to our cause year after year is a testament to their belief in our work and the positive impact it has on our Tri-City community.
"Without their generous contributions, we wouldn't be able to make the difference we do, so we thank them for standing with us and being a vital part of our mission."
Attendees can anticipate rubbing shoulders with Port Coquitlam's Mayor Brad West and Richard Stewart, Mayor of Coquitlam, plus several local MLAs and MPs from Coquitlam and Port Coquitlam City Councils.
"The annual Mayors' Charity Ball event is one I look forward to every year as it supports a great cause in the community," says Mayor Brad West. "The exceptional partnership between Coquitlam Firefighters Charitable Society and the Port Coquitlam Professional Firefighters Charitable Society is an example of what we can achieve when we work together."
Anderson adds in these challenging times, community strength matters more than ever.
"We're asking for a simple gesture: buy a ticket and join us for a memorable evening filled with wonderful activities," he says.
"Every small effort adds up to significant change. Together, we can achieve extraordinary results and make a tangible difference in our community. Your presence will truly make this event a resounding success."
Masks will be available for attendees. Purchase tickets online, or for more information, visit coquitlamfirefighterscharity.com.