Every year, with the same jubilation that surrounded the celebration in 1885, when the last spike was driven into the Canadian Pacific Railway track at the original western terminus in Port Moody, the annual Golden Spike Days festival marks the anniversary on the July 1 long weekend.
The festival's longevity is no secret. It's one of the most popular family events in B.C. and often attracts 40,000 locals and visitors, roughly 10,000 per day, from across the Lower Mainland. What's not to love, with an abundance of top-tier entertainment, a talent competition, family-friendly activities, fantastic food and local beverages, and community spirit.
The gates will open at Rocky Point Park on June 30 at 6:00 p.m., with a ceremony from the Kwikwetlem First Nations and will wrap up on July 3 at 6:00 p.m. on a high (kick) note, with the Golden Spike Can Can Dancers.
"The festival brings everybody together year after year and is the kick-off to people's summer," says Colin McKay, president, Port Moody Golden Spike Days Society. "It's an opportunity to connect with friends, family and neighbours, and provides everyone with an enormous sense of community pride."
Exceptional entertainment
The lineup is strong again this year, with some returning favourites. Thanks to positive fan feedback, the Laughing Loggers are performing again, and of course, the beloved award-winning Golden Spike Can Can dancers. Look forward to some party tunes by Barracuda: Heart-Zeppelin; A Night of Bowie; Famous Players Band; and The Fab Fourever.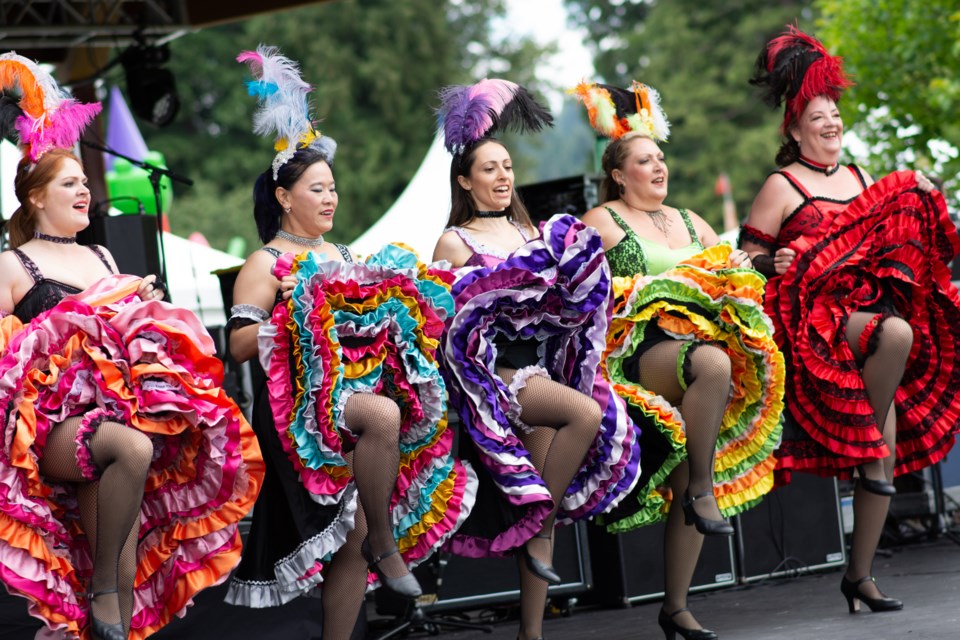 You'll hear smooth stylings and sweet harmonies from Inlet Jazz Band; Winnipeg Youth Chorus; Coastal Sound Children's Choir; and Lindbjerg Academy.
The high-calibre talent transcends across the local B.C. scene, with the Tri-Cities Got Talent (TCGT) competition. TCGT is calling all singers, dancers, bands, comedians and instrumentalists to enter by submitting their video audition online. The deadline is June 25, with $1,800 in cash prizes to be won. Contenders can also register on July 1 on the Main Stage from 9 a.m. to 10 a.m.
On July 3, you can cheer on the six finalists who will perform from 12:45 p.m. to 2:30 p.m. on the Main Stage.
"The TCGT is a big part of our festival," says McKay, "We've had acts start here and go on to some big things. It's proven to be really popular; last year we had about 40 applicants."
Food and beverages, Wesgroup family zone
Families can participate in a range of children's activities, including Yukon Dan, who's back to share the secrets of panning for gold, and Stellar Play Bubble Ball, which induces squeals of laughter. Interactive displays include Recycle BC and F45 fitness classes.
Attendees can expect delicious offerings of ethical and sustainable food choices from food trucks like Japadog, and newcomer Indish Foods (bold Indian flavours with a modern flair), or snacks like Craving Kettle Corn and Rolled West Coast Ice Cream. You can also enjoy local crafts in the Beer Garden from Brewers' Row six breweries.
"We want everybody to have a good time and reconnect," says McKay. "Come out and have some fun because we've all been a little short of fun over the last couple years."
Don't forget your 50/50 tickets! Jackpots have been known to accumulate up to $60,000, with half of the net profits funding the costs of the festival and the other half going to the winner of the jackpot.
Visit the Golden Spike Days festival on June 30 from 6 p.m. to 10 p.m., July 1 and 2 from 11 a.m. to 10 p.m., and July 3 from 11 a.m. to 6:15 p.m. Admission is by donation. For more information, visit goldenspike.ca