It turns out, we here in North America have been going about teeth whitening all wrong.
For decades, most of us on this continent have assumed there are only two ways to whiten our smile: over-the-counter products, like whitening strips, or a procedure at the dentist's office.
But in many European countries, and other faraway places like Australia, there's been another option for the past several decades: smile bars. Similar in look and feel to a nail salon or day spa, these chic and relaxing facilities offer teeth whitening for a fraction of the cost of a dental visit, and with results that are far superior to strips.
And now, Greater Vancouver has its own equivalent in the form of Mint Smilebar. Since opening its Vancouver location four years ago, followed in December 2019 by a second location in Port Moody, the trained professionals at Mint have whitened the smiles of more than 10,000 clients.
Meryll Gray, Director of Mint Smilebar, was introduced to the smile bar concept several years ago while on a visit to the Netherlands. She subsequently discovered that this concept can be found on virtually every street in Paris.
If you've been struggling to brighten your smile but have been frustrated with the results from your dentist or from drugstore products, Mint Smilebar is the solution you've been waiting for.
Gray explains that the whitening options most of us are familiar with dp have common drawbacks.
"With over-the-counter products, results aren't instant," she says. "You have to wait seven to 14 days—and judging from customer feedback, no one does this. They never go through the whole process, so they never reach the maximum threshold for how white their teeth can get. Or they whiten for a few days and get terrible sensitivity, so it deters them altogether.
"And with a dentist, of course, it's very expensive—not because their product is superior, but because you're paying for the dentist's time. Plus, the majority of dentists use an in-office process called Zoom, which is known to cause very bad sensitivity, so people are actually scared of teeth whitening at first.
"In fact," says Gray, "that's the first question people ask us: 'Is this going to hurt?' But 90% or more of our customers don't experience sensitivity."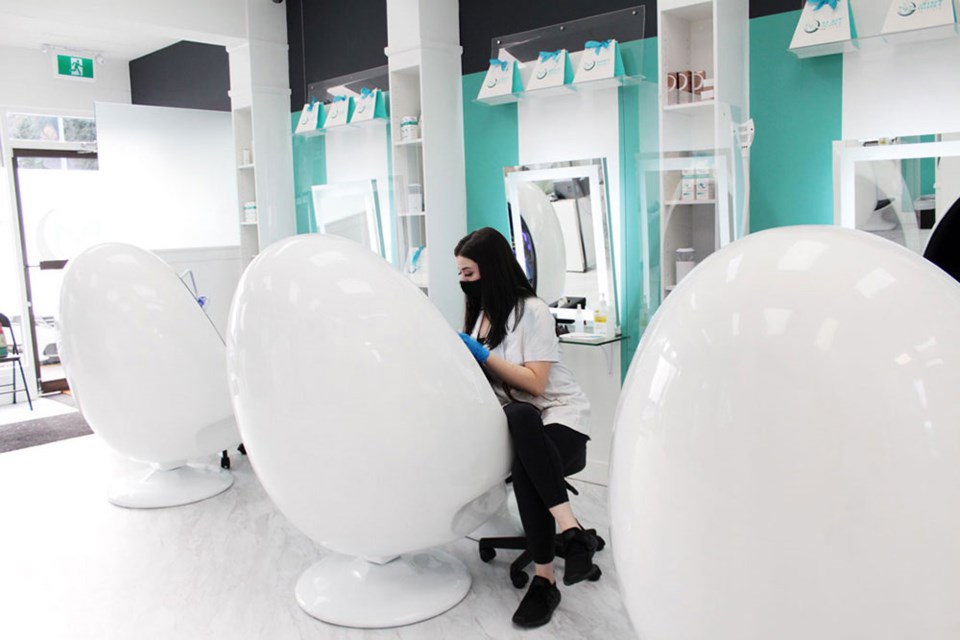 ​The reason why Mint is able to offer dentist-quality results with low incidence of sensitivity is because Mint's dentist-developed whitening gel is formulated with a desensitizing agent, and it also contains a lower percentage of peroxide than the formula most dentists use. (Peroxide is the ingredient that causes many clients—especially those who already have sensitive teeth—to experience pain.) Gray and her colleagues have found, through the thousands of successful treatments they've provided, that a higher peroxide percentage offers no guarantee of better whitening results.
Typically, says Gray, a visitor to Mint can expect results from just one session that's equivalent to seven consecutive days of using strips. "First-time whiteners, or those who haven't whitened for a long time, realistically need a couple of sessions to get all the stains out of their teeth. But they will see significant results from just one session."
Even better, a whitening session at Mint is a fun, relaxing experience. Gray notes that many clients tend to fall asleep (a "whitening nap," she laughingly calls it) in the comfortable, space-age-looking "egg chairs" where the sessions take place.
Whitening treatments at Mint begin at just $99—hundreds of dollars less than a dentist's procedure—and you can save even more when you bring a friend or group with you.
Mint also offers a range of state-of-the-art skincare treatments—including hydro facials, microneedling, dermaplaning, oxygen facials, and vitamin A infusion peels. By summer 2022, Mint will also be offering injectable treatments (neuromodulators & dermal fillers)—so you can achieve multiple aesthetic improvements in just one visit.
To learn more about Mint Smilebar and to make your first appointment, visit mintsmilebar.com.