For the first time since 2021, British Columbia's largest digital arts companies reported employment growth, according to data collected on Business in Vancouver's list of the biggest digital arts companies in B.C. 

The average number of B.C. employees working at the province's largest digital arts companies jumped 12.7 per cent to 452.3 in 2023, from 401.3 in 2022. This was the largest growth since 2020.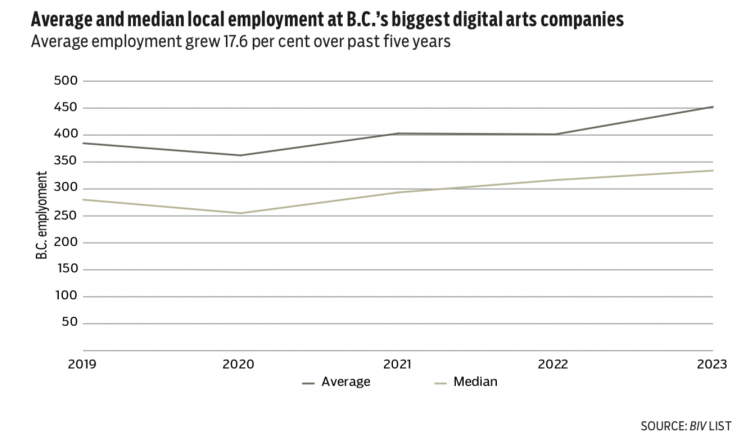 Over the past five years, average employment at top digital arts companies in the province has had a bumpy ride. After falling 5.8 per cent in 2020 before the pandemic, 2021 employment jumped 11.2 per cent and then dropped by less than one per cent the following year.
Median employment on the other hand tumbled nine per cent in 2020, but grew consistently for the following three years. In 2023, median employment experienced its slowest growth in three years, rising 5.5 per cent to 334 from 316.5 in 2022.
Animal Logic (No. 8) had the most impressive growth on the list, with a 42.9 per cent increase to 500 employees in 2023 from 350 in 2022. Among the list's top five companies, WildBrain Ltd. (No. 2) had the largest five-year growth, nearly doubling its B.C.-based employee count to 978 in 2023 from 500 in 2019.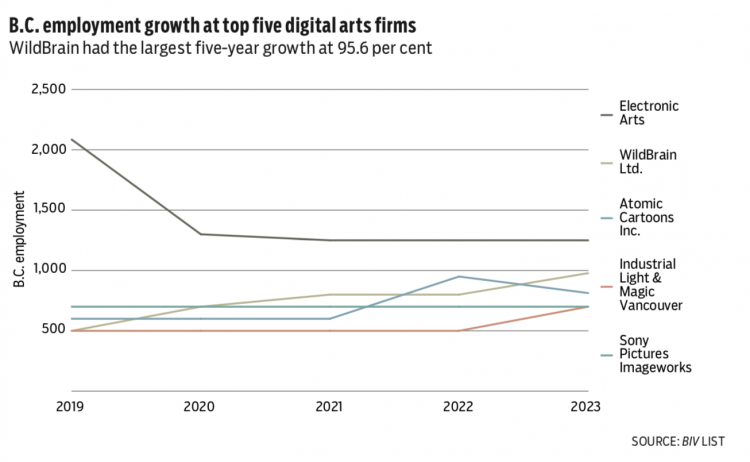 Electronic Arts (No. 1) suffered the largest employment decline among the top five firms, with local staffing levels falling 40.1 per cent to 1,250 people in 2023 from 2,085 in2019.