Almost 100 per cent of people who relied on transit prior to the COVID-19 pandemic being declared in March 2020 have returned to the system, although many commuters are taking fewer trips and working part of the week from home.
That's what Sarah Ross, TransLink's vice-president of transportation planning and policy, told the region's mayors at a Jan. 26 meeting in announcing 94 per cent of the system's customer base is using the service again.
"I take transit to work, and before the pandemic I came into this office five days a week and now I come in two to three days a week, and I work from home the other days," Ross told the mayors' council on regional transportation during a meeting at TransLink's office in New Westminster.
Still, 380,000 people were taking transit on an average weekday in the fall of 2022, a 15 per cent increase from August. Ridership in October reached 4.5 million weekly journeys and services such as the West Coast Express commuter rail line saw great gains in the past two weeks, with trips reaching almost 25,000 per week.
Ross said the region's bus service is leading the return of customers, followed by the Expo and Millennium SkyTrain lines, SeaBus, Canada Line, HandyDart and the West Coast Express.
Motorists return across region
At the same time, vehicle volumes measured on the Knight Street Bridge, Pattullo Bridge, Golden Ears Bridge and the intersection of Lougheed and Orchid show a 108 per cent return of motorists.
Surrey and the southeast sector have seen the biggest return in bus riders, with a 98 per cent weekday recovery rate. It's even higher on the weekends at 104 per cent.
Similar data stories have emerged on the North Shore, in Richmond, Tsawwassen, White Rock, the Tri-Cities, Pitt Meadows and Maple Ridge. But Vancouver, Burnaby and New Westminster's recovery rates are no greater than 74 per cent on the weekdays.
In fact, Vancouver's central business district, Mount Pleasant and Fairview have been slowest to recover, with rates at or below 65 per cent of pre-COVID levels. But Ross pointed out the business district remains busy for transit users.
"It's really important to know that even though the central business district — while being lower in terms of recovery rate — remains by far the highest total ridership," she said. "So there's still a lot of transit trips."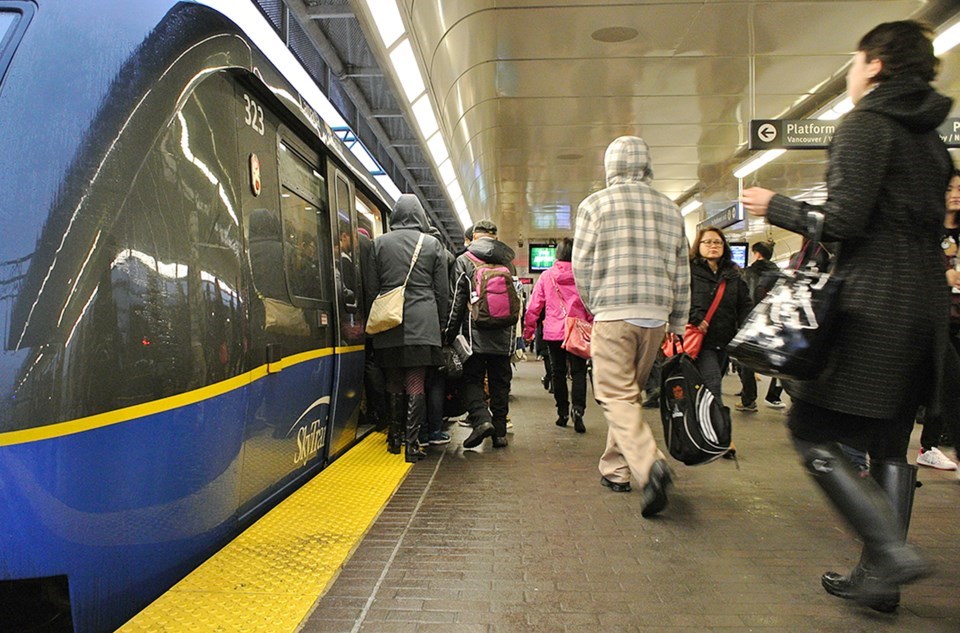 'Something we very much want to avoid'
Prior to the pandemic, overcrowding of the system was widespread on buses and trains. Ross said some areas of the region are starting to experience that again but not at the pre-pandemic rate.
Even so, TransLink has reallocated bus routes and continues to make adjustments to schedules to dispatch extra trips to accommodate customers. But Ross warned it may not be sustainable without expansion of the system.
"If our ridership level recovery remains relatively stable in 2023, we expect to be able to mostly minimize these crowding conditions," she said.
"But if our ridership growth exceeds expectation, and the region continues to grow over the next few years — which we know it will — we're not going to be able to address this through reallocations. So overcrowding will increase."
Added Ross: "Without service expansion, this is going to constrain growth because the experience of taking transit will be materially degraded, as it becomes more crowded and obviously this is something we very much want to avoid."
'Service reliability' should be focus of TransLink
Coquitlam city councillor Brent Asmundson, a retired bus driver, pointed out the need for the transit system to be reliable for customers, otherwise people give up and seek other alternatives to get around.
"When we get into making cuts or making adjustments, I'd like to see more stats on service reliability," Asmundson told Ross. "One of the biggest things that takes people away from transit is service, especially in the bus system when a bus is not there on a reliable basis."
Asmundson said it is "very difficult to attract people back to the service" — sometimes up to five years — when TransLink takes service away from lower volume areas and returns it at a later date.
"We can talk about ridership increasing…but what our biggest point we should be focusing on is reliability of service," he said. "Transit is a little more awkward than just getting in your car and having that freedom to drive. So people need to know that service reliability."
Ross agreed with Asmundson and said that in the next couple of months TransLink will present a "bus speed reliability" report to the mayors, which will provide an analysis of the bus system and how it is working in the region.
'They miss a class'
West Vancouver Mayor Mark Sager raised concerns about the cancellation during the early days of the pandemic of an express bus service from Dundarave to the University of B.C. Sager said many students relied on the service.
He acknowledged other routes are now available but require connections in downtown Vancouver.
"I've heard from so many students that they tried it, but the connections don't always work, they miss a class, they give up and they're back in the vehicle, which is the very thing we're trying to get out of," he said.
Ross said approximately 90 riders per day used the West Vancouver-to-UBC bus service before it was cancelled. She pointed out the service would only take passengers to the university, but return to West Vancouver empty.
"We have multiple options to connect to downtown to an express bus that leaves from downtown Vancouver that runs very frequently and we've increased the frequency on that in order to improve the timing of that connection in terms of the North Shore," she said, noting rapid transit to the North Shore is part of the mayors' 10-year plan.