Someone has taken two Port Moody high school students' art projects that were set to help them potentially earn university scholarships.
According to Mounties, a suspect stole a pair of paintings from a display kiosk inside the Coquitlam Centre mall within one week at the end of May.
Mounties responded to the report around 6:45 p.m. on May 31 when they were first made aware of the theft.
Since then, no suspects have been found or identified.
The art, which RCMP spokesperson Cpl. Paige Kuz says students put a lot of hard work and effort into, has yet to be recovered as of this publication (June 23).
"A number of students put months of work into the art pieces and some were using them toward scholarships as well as applications for post secondary schools," explain Kuz.
"We are asking the public to be aware these invaluable pieces were stolen in hopes of returning them to their owners."
Kuz adds police are now turning to the public to help find the two paintings.
The first is of a platter of apples on top of a table with white and blue cloths.
There's also a distinct clear water pitcher on the table and green leaves along the top of the canvas.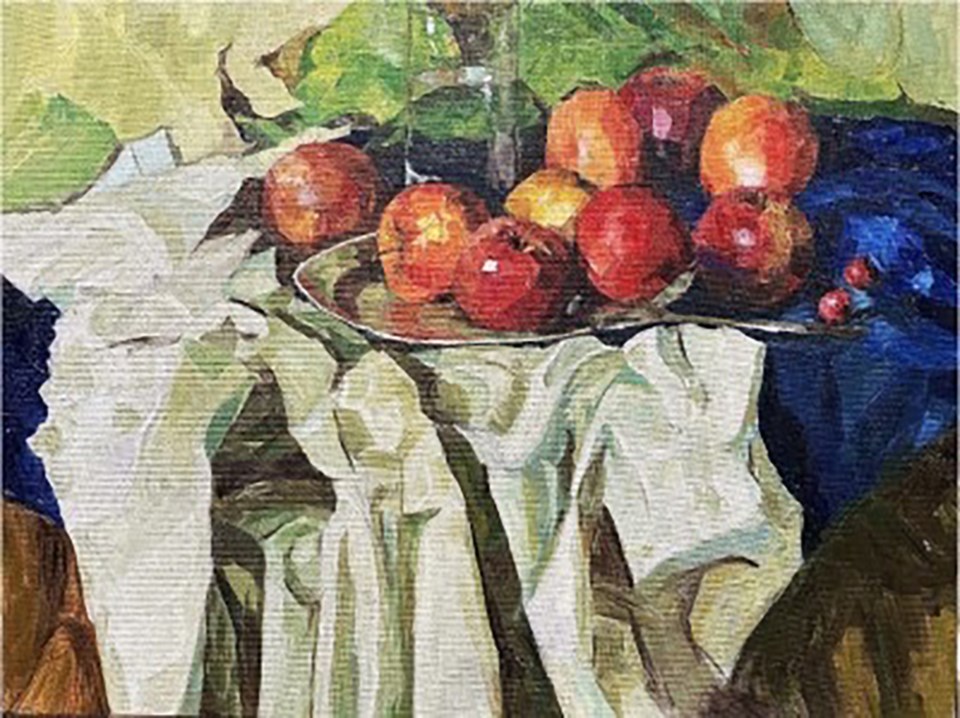 The second is an abstract painting of what appears to be a forest landscape with an eye in the middle.
It has a blue base with at least three logs laid across the middle, and standing trees that stretch along the sides of the canvas from the middle to the top corners.
Anyone with more information about the stolen art is asked to call Coquitlam RCMP at 604-945-1550 and quote file-number 2022-13600.