Coquitlam council is holding its first online public hearing of the COVID-19 pandemic next month.
Residents will be able to weigh-in on two agenda items via Zoom, a video conferencing website the city has been using to conduct meetings since the public health crisis began. Sean O'Melinn, Coquitlam's legislative services manager, said staff have reached out to other communities to ensure the hearing runs as smoothly as possible.
"Our goal is to host electronic public hearings that continue to offer the public opportunities for input, while recognizing that the current situation is different and requires new approaches," he said. "We anticipate this will involve ongoing adaptations as the current health crisis evolves."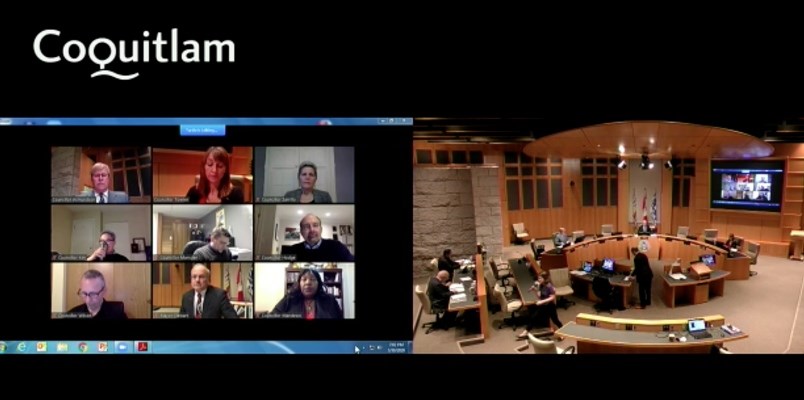 There are two items on the June 1 agenda. The first would subdivide a property on Victoria Drive into two detached lots with secondary suites, while the second, also for a property on Victoria Drive, would allow for the construction of seven new detached homes, each with a secondary suite.
There are still options available for residents who may not be comfortable using a computer.
O'Melinn said under the revised approach, people can participate by telephone and even make a comment or ask a question when it is their turn to speak. And much like the regular public hearing process, written submissions can be placed in a drop box outside city hall (3000 Guildford Way, Coquitlam) addressed to the city clerk's office or emailed to clerks@coquitlam.ca. 
A live broadcast of the meeting will be available at coquitlam.ca/webcasts and all meetings are archived on the city's website.
"We want everyone that has a desire to express their views to participate in the public hearing," O'Melinn said. 
On March 18, Coquitlam, along with municipalities across Metro Vancouver, announced it would be closing all civic facilities — including city hall — to the public. Since then, meetings have been held online, with the majority of councillors tuning in remotely from their homes.
Earlier this month, the province expanded the authorities of local governments to allow cities to hold public hearings electronically during the state of emergency.
Selina Robinson, B.C.'s Minister of Municipal Affairs and Housing and a former Coquitlam city councillor, said the changes will allow municipalities to continue making land-use decisions. 
"Local governments will be a key partner in our recovery effort," Robinson said. "Construction and development activities are expected to be a key part of B.C.'s recovery efforts — and building housing, in particular affordable housing, will contribute to our goal to provide affordable housing for all British Columbians."