School District 43 is prepared if the province switches to remote learning but the district's top official hopes it doesn't happen.
Superintendent Patricia Gartland says plans are in place to switch to full or part-time online learning at anytime.
But she hopes it won't be necessary because experience from the spring suggests home is not the best possible learning environment for students who learn best in school with adults and with peers, she said, while parti-time school is a problem for parents and staff, as well.
"Not only is that double duty for our staff but it increases the load for parents," Gartland said.
In recent discussions with Education Minister Rob Fleming and top provincial officials, Gartland said there is little appetite to switch to online learning or to the blend of in-class and remote learning that was implemented in June.
She said school is good and safe for students while the district's social media is full of local school happenings.
PADS in training Comox getting ready for his photo! https://t.co/M3pfU5kd4j

— School District 43 (@sd43bc) November 24, 2020
There is very little appetite for switching from the current phase, she said.
"The minister did not want to return to stage 3 and they wanted very much for school to continue the way it is — they recognize the need for students to stay in school," Gartland said.
Her concerns come as Fraser Health, which includes the Tri-Cities, posted 678 COVID-19 cases on Tuesday, and 1,304 on the weekend. Another five Coquitlam schools were flagged for exposures since the weekend.
According to SD43, there have been 55 exposures in schools since the beginning of September, with no outbreaks, but Fraser Health has asked several staff and students to self-monitor for symptoms.
This week early exposure letters have gone out to three Coquitlam schools, Leigh and Montgomery elementary schools and Centennial secondary school.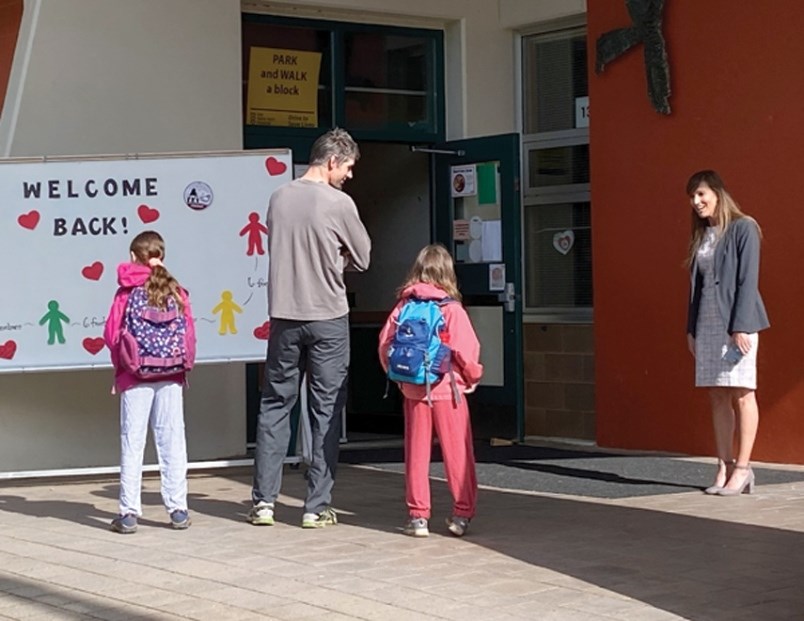 1,657 STUDENTS AT HOME
Meanwhile, hundreds of parents are keeping their kids home, although that number has been dwindling in recent weeks.
Currently, 1,657 students are enrolled in the gradual transitions program, doing their school work at home and going to school part time.
According to director of instruction Stephen Whiffin, these children will soon be participating in a district "teaching event" and their parents will help teachers with their mark by providing a "snapshot assessment" of their child's school work.
Gartland stressed that schools continue to be safe and strict protocols are followed, including physical distancing and mask wearing in common areas and when cohorts are mixed.
LETTER DELAYS TO PARENTS
The superintendent also addressed concerns about delays to early notification letters to parents.
She said Fraser Health responds "as soon as possible" and follows up immediately on information provided by the school district, including who was in the school near an infectious person and "were they close contacts."
"The delay is for all the due diligence to have occurred, and as soon as we know there has been a definite exposure, we follow up the same day, a letter goes out, and it's posted on social media," commented Gartland.
Recently, some parents told the Tri-City News they didn't get their early notice letters until 10 or 11 days after the initial exposure date.
Fraser Health has recommended people get tested as soon as they have symptoms, which will speed up results, and notification.