A housing form called junior one-bedroom is becoming more common in new Tri-Cities developments.
Also known as a studio apartment, micro condo or compact housing, these homes can be 500 sq. ft. or less.
But with prices under $400,000 — or around $500,000 depending on size, location and amenities — these tiny homes could be just what investors, singles and first-time home buyers are looking for.
"This is really what we call an evolution in density, or lots of people living in one area," said Cameron McNeill, executive director of MLA Canada, a realty firm that works with developers.
McNeill said studio apartments are an important segment of the market as developers look for ways to provide homes at lower prices than a typical one or two bedroom condo.
Are studio condos livable?
"When you first hear 20 [feet] by 20 [feet] it sounds incredibly small. What is driving this is the incredible lack of affordability for people who want to live in the Lower Mainland," said McNeill.
His firm has a Coquitlam listing at the Alina for a 429 sq. ft. condo for just under $600,000.
Currently, he's working with two developers in the Lower Mainland that are in the midst of designing towers.
They are putting a lot of thought into price and size, to maximize the property, McNeill said.
"It puts incredible pressure on price [but] one of the solutions to providing housing options for people is to build small homes. The question is — is that livable?"
The location of amenities, such as shopping and parks, will be key, said McNeill, so people in homes with smaller footprints can get out and about.
"Unlike a big sprawling single family home, these homes are where people sleep and keep their personal goods and, maybe, cook there. But they spend much more time out of the home."
In Coquitlam, for example, a new YMCA is opening to provide a pool, café and gym courts for active recreation. Many of these new developments are close to SkyTrain, as well.
However, whether you find a 400 sq-ft. home livable or not depends on your expectations.
Real estate blogs and Quora threads are devoted to people talking about what it's like to live in a small space — some about the challenges, plus advice on how to design a space to eliminate clutter.
Newer junior one-bedrooms built today often have walls to enclose the bedroom area rather than having the bed out in the open or behind a screen.
Depending on the price, they likely come with a parking space, roughed in for an EV charger, and a storage locker.
Among the notable listings include:
Coquitlam
The Elmwood

396 sq-ft. home recently sold for $464,900

416-600 Rochester Ave.
Port Moody
404-3229 St Johns St.
Sitka House
Roof-top decks and yoga studios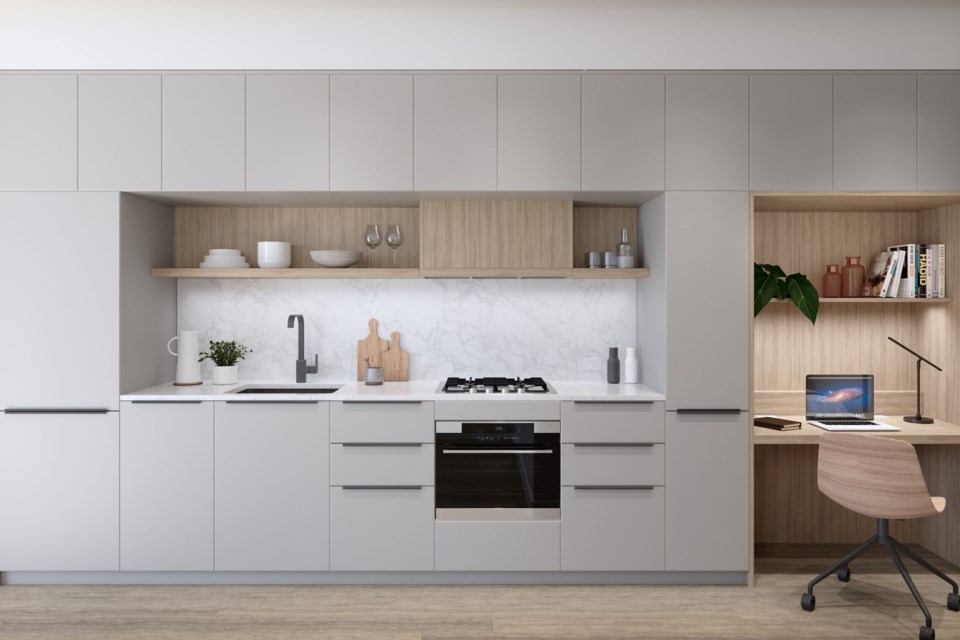 Many new developments in Coquitlam and Port Moody are also offering roof-top decks, yoga studios and spas to off-set the smaller space of a junior one bedroom.
Jaden Narduzzi said junior one-bedrooms at Hue on St. Johns Street have sold well.
His realty firm, Personal Real Estate Corporation, has sold more than 25 of the more than 100 approximately 533 sq-ft. homes in the development.
These Marcon homes can be customized and have an efficient design, with kitchen, desk and storage along one wall and bedroom, living room and bathroom along the other wall.
And, at a price point starting at $569,000, they're getting some interest at the sales centre located at Outpost.
"Out of the 25-plus units we sold — it was a fair mix of first time home buyers and investors. At least half were first time home buyers looking to get into the market at a low cost," Narduzzi said.
There's no question that studios and one-bedrooms are becoming a trend in new housing developments in Coquitlam and Port Moody where these small suites are becoming an important segment of the market.
Housing Affordability Strategy in Coquitlam
Several projects recently approved or under construction include a number of studios, including a new development by Polygon, which just received first reading in Coquitlam, with five per cent of units to be studios.
Studio apartments in the city can be as small as 312 sq. ft. in size, but new developments can't have more than 30 per cent of homes as studios.
Coquitlam's Housing Affordability Strategy (HAS) policy states the city should "encourage development / building designs with a variety of innovative unit types, such as studios and micro suites, subject to detailed design review," notes Andrew Merrill, director of development services.
Renters will also make use of this smaller form of housing stock, according to MLA Canada's McNeill.
He said record numbers of immigrants expected to arrive in the Lower Mainland might rent or buy these small homes while they get on their feet.
"I also believe a healthy community has a diversity of people, both in age and in background in household make up," he said, adding a "healthy mix" of condos and apartments would include these smaller homes.