Tri-Cities residents looking to adopt a furry friend to their family can do so for half the price.
The BC SPCA, which includes its Coquitlam chapter (1-2565 Lougheed Hwy.), is highlighting National Adopt-a-Shelter-Pet Day tomorrow (April 30) by offering 50 per cent off all adoption fees this weekend.
The annual day of recognition is meant to bring awareness to the tens of thousands of animals in the non-profit organization's care across the province.
"Animals come into our care through no fault of their own," said BC SPCA spokesperson Adrienne McBride, in a news release.
"Sometimes guardians just aren't able to care for their pets and they seek our help to find them a new home. In other cases, animals are seized from dangerous or neglectful situations.
McBride said studies have proved that pets can have a positive impact on mental and physical health, especially since thousands of B.C. residents adopted animals during the COVID-19 pandemic.
"Seeing an animal go home with their new guardian is one of the most rewarding parts of my job. Often animals come to us from less-than-ideal situations, where their needs were not being met. To see them go to a home where they will be cared for and cherished is such a wonderful feeling."
For more information on the adoption event, you can visit the BC SPCA's website.
Here are the pets currently up for adoption in the Tri-Cities (from youngest to oldest), along with SPCA profile descriptions:
Janice and Jojo
Janice and Jojo came into our care as a bonded pair.
Jojo is the proud mom of three girls (who were adopted all together) and now it is their turn to find their forever home together.
They are very sweet and quite good with handling, but daily socialization would be amazing for them to further bond with you.
A photo of Janice was not available.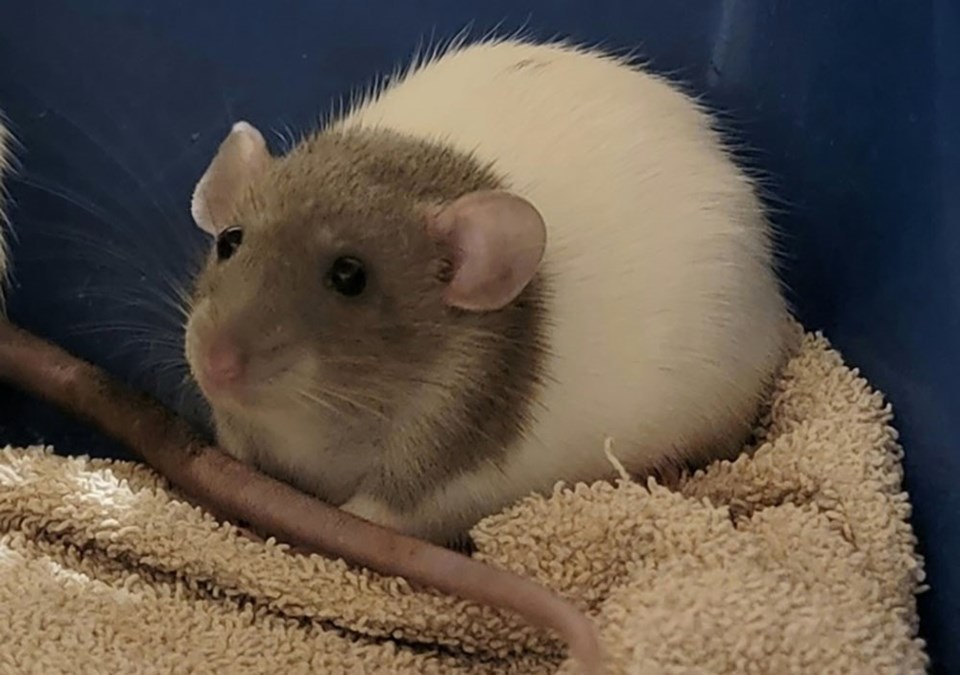 Toblerone and Twix
This sweet pair were abandoned with six others outside a local shelter.
Toblerone is a bit shy, but is getting more courageous every day.
Twix is more comfortable around people and is teaching Toblerone how to relax.
They love each other very much and are so much fun to be around!
They absolutely love their veggies and chirp loudly in anticipation of being fed.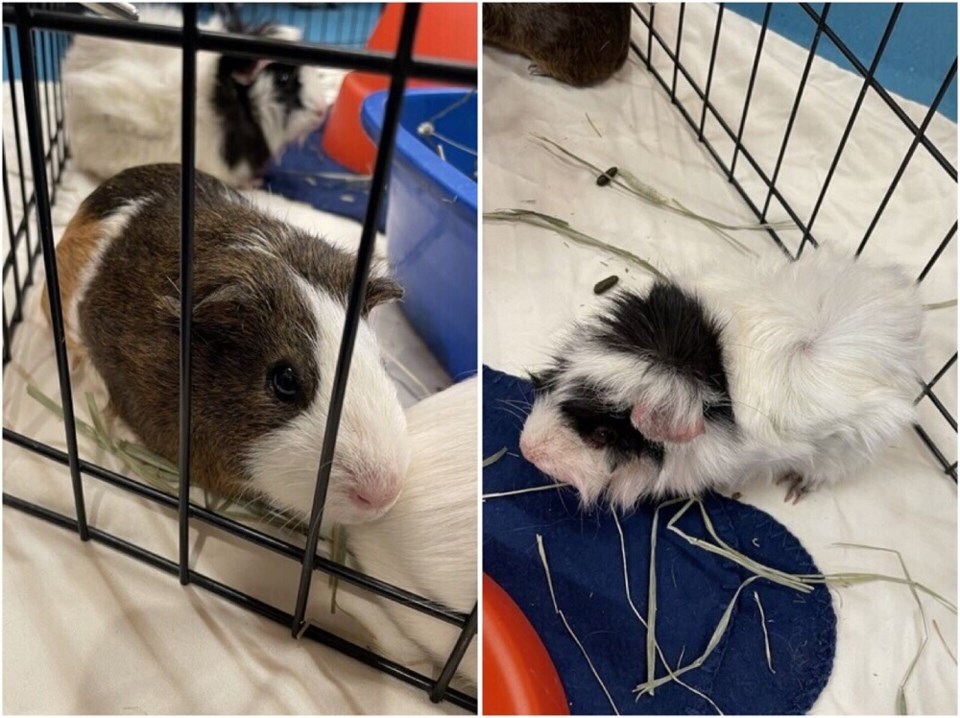 Alvin
Two years old
Domestic short hair
This sweet young man came through no fault of his own with his brothers Simon and Theodore.
Alvin can be a little shy on initial meetings, however he warms up quickly and will be purring and cuddled in your arms in no time!
Alvin lived previously with his brothers and would likely do well with another calm friendly cat, but he may do okay with a calm cat savvy dog so long as they are properly introduced!
He is booked for his neuter surgery on May 9 in Port Coquitlam, so his new family would be picking him up as a "foster to adopt" and taking care of him until then.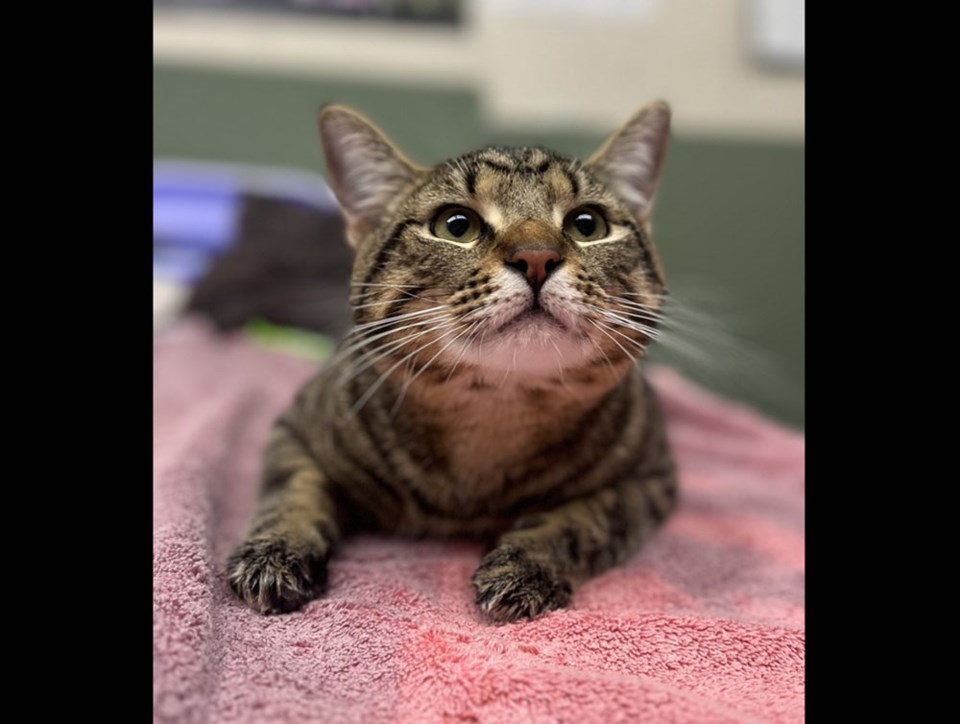 Charlie
Seven years old
Domestic short hair
Charlie can hardly lift herself out of her bed, she is unable to groom anywhere but her front legs and she can't even scratch an itch. You can imagine how uncomfortable that must be.
Despite her size, Charlie's bloodwork and urinalysis were "normal," meaning her obesity has not yet turned into diabetes or another lifelong medical condition and there is still time for her to make a full recovery. She's working with a veterinarian and has developed a special diet and exercise plan, in which her goal is to lose 11 pounds in order to reach a "healthy" weight.
Currently, Charlie's special needs are:
Assisted grooming/bathing – due to her inability to groom herself, she does require some extra TLC to keep clean
Indoor only – with access to a secure catio perhaps?
Chonk-proof home – she is currently unable to jump on/off of furniture or do stairs as there is a risk she could hurt herself with a fall
With her very strict diet, a home without small children or other pets is best
Dedicated guardian who will enforce her diet and exercise plan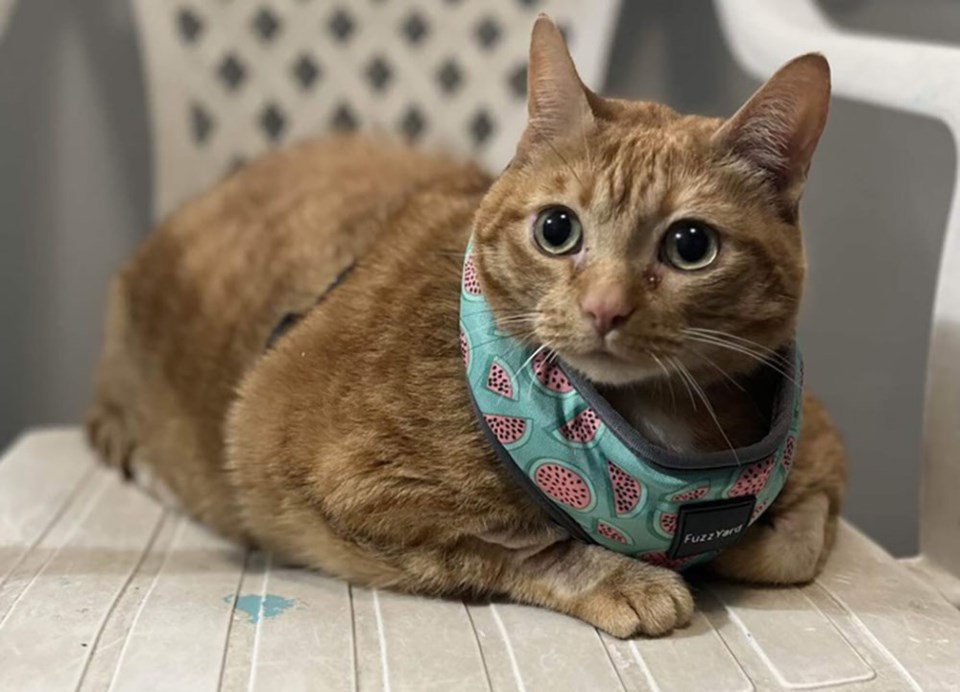 Penny
10 years old
Domestic medium hair
Penny is a sweet, but somewhat shy cat looking for a forever family.
When she arrived in the shelter, Penny had severe matting and had to have most of her coat shaved. She is currently overweight, so potential adopters will have to be very aware of her diet and keeping her on track to get in shape.
When Penny's coat begins to grow back, it will be very important to assist her with grooming as her weight makes it difficult for her to do it herself.
Penny enjoys affection and would prefer a quiet home with no kids. She can be slow to warm up and is hesitant of change. Penny would enjoy a safe spot where she can curl up when she is feeling stressed or overwhelmed in the home.
She is currently in foster and is definitely becoming more active. She loves to jump on the sofa and perch up top and will also follow her foster mom up and down the hallway and will sleep on the bed with them.