Do you believe Coquitlam is a community that has met the needs of new residents in providing jobs, homes and a sense of belonging?
Turns out, this may resonate with more people than we think.
According to analysts with BCBusiness — a magazine dedicated to highlighting the province's entrepreneurial community — Coquitlam has become a more livable municipality in the past year thanks, in part, to providing more employment options and rentals to meet its population growth.
As a result, the city jumped to ninth overall in BCBusiness' 2022 rankings for B.C.'s Most Economically Resilient Cities, also known as the best places to work.
That's a hike of 34 spots from 43rd last year, the second-highest ranking improvement among the 50 communities assessed, and is one of three in the Metro Vancouver region listed among the top 10.
The report is based on 10 economic factors and was only assessed in areas of 10,000 or more permanent residents:
Five-year population growth
Household financial vulnerability
Resident sense of belonging
Residential greenhouse gas emissions
Rental vacancy rate
Residential sales
Housing starts
Change in jobs
Average annual unemployment rate
Economic diversity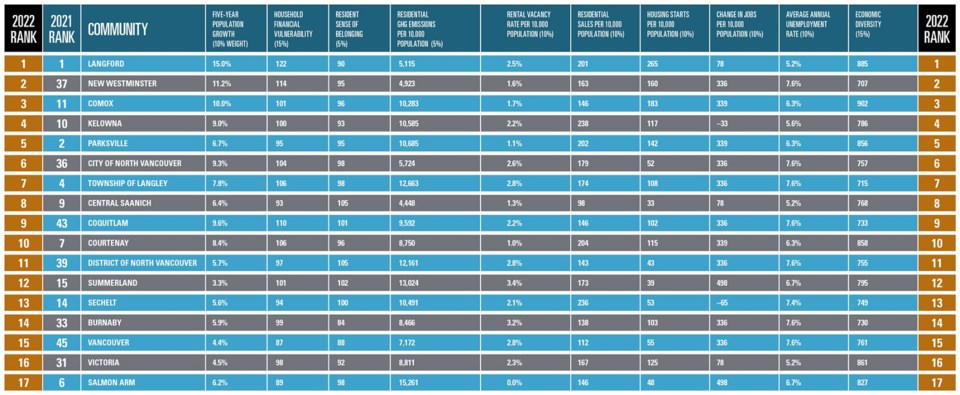 Six categories were given a weighting of 10 per cent.
Household financial vulnerability and economic diversity received 15 per cent weight, while sense of belonging and GHG emissions were measured by five per cent.
"After bearing the initial brunt of the [COVID-19] pandemic, many Metro Vancouver municipalities saw an impressive reversal of fortune as rebounding job creation, a robust development industry and the greatest economic diversity in B.C. drove a rally in their scoring," writes Andrew Macaulay of BCBusiness.
"We reconfigured this year's indicators to be less specific to pandemic recovery and to consider economic resilience more broadly, including its social and environmental aspects."
Langford took the top spot a second straight year as the province's most resilient working community, followed by New Westminster in second and Comox in third.
Meanwhile, Port Coquitlam cracked the top 40 with an improvement to 39th from 42nd in the 2021 rankings.
Port Moody, however, was left off the list.