There are two Tri-City regions dealing with an apparent rat problem as the rodent's population is growing, one pest control company explains.
Orkin Canada released its annual rattiest B.C. city list with Coquitlam ranked 10th and Port Coquitlam 12th among 20 communities pictured in its findings.
According to Orkin, provincial lockdowns and health restrictions stemming from the COVID-19 pandemic were a potential factor in the recent rat population growth as more residents chose to cook and eat at home.
It adds 13.5 per cent of all Canadians produced more food waste in the last two years during the pandemic compared to "non-lockdown times."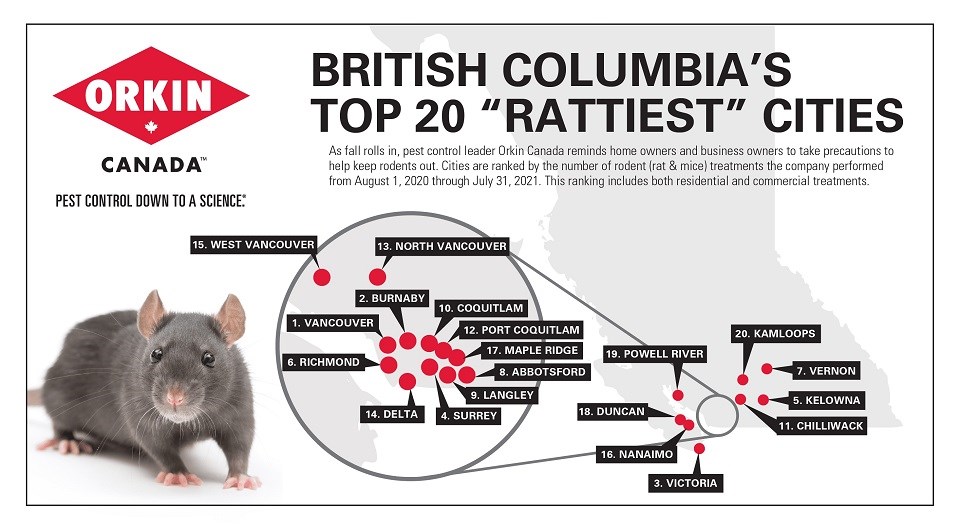 "Food abundance means potential increases in rodent populations, which is why people may be seeing more rats and mice in residential neighbourhoods," Orkin explains in a news release today (Nov. 2).
Orkin Canada experts also note that rats have displayed bolder behaviour during the same frame.
"Mainly nocturnal, increased sightings of rodent activity during the day have become more common, as well as migrations from resource-depleted urban centres to food-rich suburban areas, where rats and mice may have been able to reproduce and drive up the population."
Now, with the temperature dropping for the fall and the first whisp of winter on the horizon, Orkin explains rats are going to be looking for heated shelters, including homes, businesses and other buildings.
The company lists the following advice for keeping the furry creatures out of local properties:
Seal cracks or holes in your foundation and install weather stripping around windows and doors
Keep shrubbery at least a metre away from exterior walls of your home
Get rid of moisture sources (ie. clogged gutters)
Be diligent in keeping garbage and old food away from your house
For more information, you're encouraged to visit Orkin Canada's website.
For a fifth time in a row, Vancouver was named B.C.'s rattiest city, while the Tri-Cities' neighbouring municipality of Burnaby was second overall.
The data was collected between Aug. 1, 2020, and July 31, 2021, and are based on the number of commercial and residential rodent (rats and mice) treatments that Orkin Canada carried out between those dates.