Coquitlam is assuring local residents who have cloudier-than-normal tap water that everything is alright.
Jonathan Helmus, the city's utilities director, explained crews are carrying out annual pipe flushing across certain neighbourhoods to maintain drinking water quality during the winter.
Current water main flushing is taking place in River Springs, as well as the area of David Avenue and Noons Creek Drive.
And to inform property owners of when their home's tap water could be next to see some discolouration, Coquitlam city staff have created a new online map that shows when flushing is set to happen next.
As of this publication (Jan. 25), households near Scott Creek stretching east from the intersection of Panorama Drive and Parkway Boulevard to Robson Drive and Pipeline Road are listed as "upcoming" for flush work.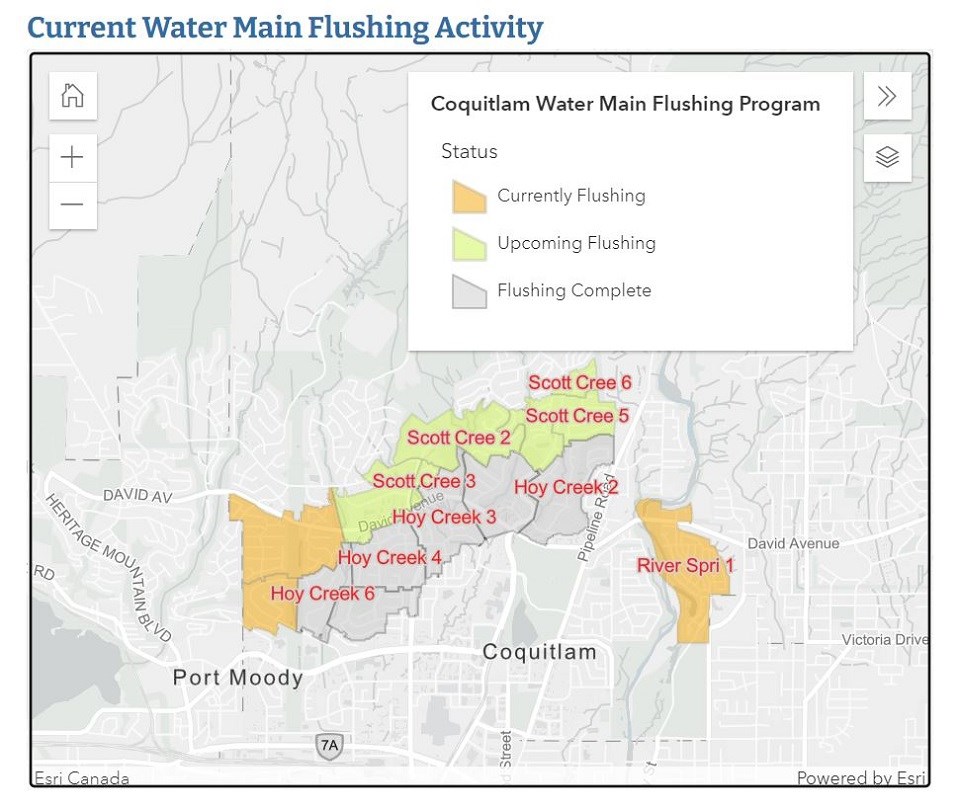 What to expect
Changes in water pressure, discolouration and noticeable sediment in tap water is to be expected as a result of the city's work.
But Helmus said it will be for only a short period of time.
"Water main flushing involves moving large volumes of water through distribution pipes to clean out sediment and mineral buildup," he said in a news release today.
"Flushing is one of the many activities the city uses to maintain its high standard of drinking water, including rigorous testing and monitoring, proactive maintenance and innovative problem solving."
Coquitlam flushes are conducted between fall and spring, covering roughly 33 per cent of city water mains, rotating neighbourhood by neighbourhood each year, Helmus said.
"The City also uses automated systems to regularly flush out dead-end water mains to prevent chlorine buildup, and to monitor the water quality in streams and from construction sites," he added.
How to fix it
The city said cloudy tap water is still safe to drink, but homeowners can still easily fix it even while crews conduct their flushes.
Helmus advises running the cold-water tap in the bathtub to "avoid clogging up faucet screens" and to run it for a few minutes until it's clear.
If it's still cloudy, he encourages residents to let the water run for 30 minutes straight.
However, residents are strongly advised to not use the hot water until the cold side is clear, to keep cloudy water out of the hot water tank.
Coquitlam drinking water flows from the North Shore and Coquitlam mountains, through the local watersheds and into reservoirs, where it's microfiltered before being sent through the regional pipe system.
For more information and an active water main flushing map, you can visit the City of Coquitlam's website.