3:20 p.m., Nov. 23
"The armed assailants physically battered staff and robbed them of personal belongings."
Jeff Kornatowsky of Journey Approved (1881 Lougheed Hwy.) in Port Coquitlam tells the Tri-City News employees had their wallets, phones and jewellery stolen after they were robbed by four individuals with firearms on Tuesday (Nov. 22).
The assailants arrived in their own vehicle at around 3:45 p.m. and subjected the staff to violence, which required one Journey Approved staff member to be sent to hospital with minor injuries, said Kornatowsky, a principal dealer for Journey Auto Group.
He explained RCMP and BC Ambulance acted quickly to deal with the "chaotic armed robbery" and subsequent trauma.
"We would like to thank the RCMP and BC Ambulance Services for their quick response and professionalism both during and after the incident. They were on scene within minutes from the first call and stayed well after to ensure everyone was ok," said Kornatowsky.
Journey Approved opened earlier this year as a subsidiary of the Journey Auto Group, specializing in automotive financing and leasing.
"We would also like to praise our staff at Journey Approved for keeping their calm during this chaotic armed robbery. We will be working with victim services to ensure our staff receive the help they may need to recover from this event."
None of the victims sustained life-threatening injuries, according to Coquitlam RCMP spokesperson Cpl. Alexa Hodgins.
A person also suffered minor injuries after their vehicle was carjacked by a second suspect, who then fled to Surrey.
The suspect was subsequently arrested by officers in that city, and another was located on Highway 1 after crashing the stolen vehicle near the King Edward Street overpass.
"This was an extremely chaotic, fast-moving and dynamic response to an extremely brazen and violent incident that happened in the middle of the afternoon in an extremely busy area," explained Insp. Darren Carr during a news conference today (Nov. 23).
Two suspects are still at large and it's not known if they were injured at any point during the pursuit.
It's also not clear, as of this publication (Nov. 23), of what happened to the vehicle the suspects arrived in at the PoCo dealership.
You can read the full update here.
9:50 p.m., Nov. 22
Police are looking for suspects that remain at large following a string of apparent crimes that started in Port Coquitlam earlier today (Nov. 22).
RCMP are turning to the public in hopes of obtaining video footage and witness statements after arresting two of four known suspects — one in Coquitlam and the other in Surrey — that stole a vehicle from a local dealership.
Spokesperson Cpl. Alexa Hodgins said no one was hurt following an exchange of gunfire between the suspects and armed officers.
However, in a statement, she added it's not clear if any of the outstanding suspects were injured at any point during the pursuit.
Around 3:40 p.m., Mounties responded to reports of a robbery involving firearms at a PoCo dealership near the intersection of Lougheed Highway and Dominion Avenue.
It's alleged the four suspects stole a vehicle, which they then fled in before shots were fired.
According to witness video provided to the Tri-City News, a black sedan was seen fleeing at least 10 police cruisers along Lougheed Highway west through the Coquitlam-Port Coquitlam corridor.
The stolen vehicle ultimately crashed on Highway 1 west near the King Edward Street overpass, the suspects fled on foot and one was located at the scene.
A second carjacked a vehicle and fled to Surrey, where they were arrested by officers in that jurisdiction.
Coquitlam RCMP's major crimes team has since taken lead on the investigation and victim services have also been called.
"We would like to thank our policing partners in Burnaby, Surrey, New Westminster, Vancouver, Maple Ridge and the Lower Mainland Emergency Response Team (ERT) for their assistance," said Hodgins.
"We appreciate and thank the public for their assistance in adhering to police directions. This was a very dynamic investigation with multiple crime scenes which required additional assistance from numerous jurisdictions."
Traffic and transit delays were the result of the incidents.
Highway 1 westbound was backed up beyond the Port Mann Bridge and into Surrey for most of the evening, with only a single lane getting by for several hours.
As of this update, all lanes are open except for the right-hand lane between the Lougheed exit (44) and the King Edward Street overpass.
Transit through Coquitlam and New Westminster have also returned to normal operations.
Police are hoping to obtain any and all evidence to move the investigation forward in hopes of finding the two suspects at large.
Anyone with more information or video of the incidents today is encouraged to call Coquitlam RCMP at 604-945-1550 and quote file-number 2022-30931.
8 p.m., Nov. 22
It appears all but one lane is now getting through on Highway 1 westbound in Coquitlam.
DriveBC's latest update says the right lane between the Lougheed exit (44) and King Edward Street overpass is still closed as RCMP continue to investigate a "major" incident from earlier this evening (Nov. 22).
Commuters are still expected to experience heavy congestion, the provincial agency added.
Mounties were seen pursuing a suspect on Highway 1 around 4 p.m. following a series of incidents involving shots fired and vehicle chases across the Tri-Cities and New Westminster.
4:55 p.m., Nov. 22
RCMP are dealing with a "major" incident across Coquitlam and potentially the Tri-Cities this evening (Nov. 22).
Spokesperson Cpl. Alexa Hodgins tells the Tri-City News the situation involves "multiple crime scenes" and officers are currently investigating.
No other updates have been provided at this time.
Meanwhile, the incident has blocked traffic along Highway 1 westbound at the King Edward Street overpass.
Commuters are expected to endure major delays as only the HOV lane remains open.
According to multiple witnesses, it appears a series of incidents took place leading up to the highway's partial closure.
This includes sightings of armed police in Port Coquitlam near Shaughnessy Street and Lougheed Highway, and sounds of multiple shots fired in different areas of the region.
"I was eastbound on Lougheed at Como Lake about an hour ago. A black Mercedes went flying by westbound followed by about 5 or 6 police cars," a witness told the Tri-City News via social media. "Heard a number of what sounded like gunshots."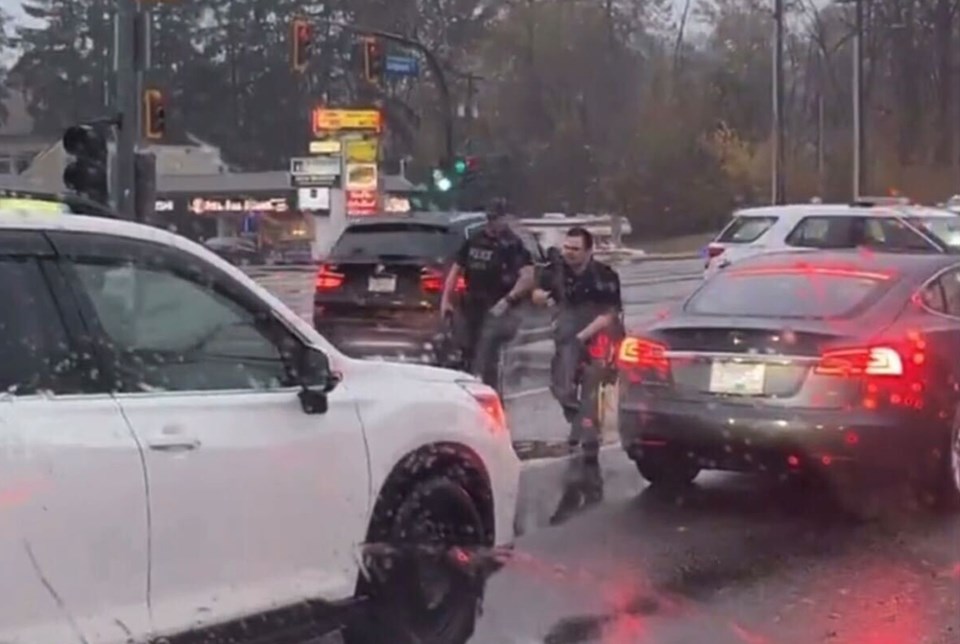 In video provided to the Tri-City News, one of the incidents appears to have involved someone that sped along Lougheed Highway.
A witness' video shows a black sedan steering around everyone and running the Pitt River Road intersection, followed by one RCMP cruiser as the light turned green.
As the witness drives further east, nine more police vehicles are seen rushing down the Coquitlam-Port Coquitlam corridor.
TransLink says most local transit has returned to normal operations after shutting down earlier this evening as a result of the police incident.
SkyTrains at Braid station did not stop as part of efforts to curb any potential incidents.