Coquitlam pet owners are encouraged to keep an eye out for coyotes after multiple reports of close calls with dogs and cats, and a reported death of a puppy.
A Vancouver news outlet has reported a coyote snatched a small aussiedoodle puppy while it was playing in the backyard of a Coquitlam home with its owners on Oct. 23.
According to Global News, the Davidson family saw the coyote kill their dog and run away. They now want residents to be aware of the animals and to take extra care of their pets.
The City of Coquitlam has confirmed it has received reports of coyotes in the area of Miller Park and Chapman Avenue near Clarke Road and has installed a number of signs around the area.
Miller Park, located at 900 Oakview St., has a popular off-leash area for dogs as well as a trail through a ravine.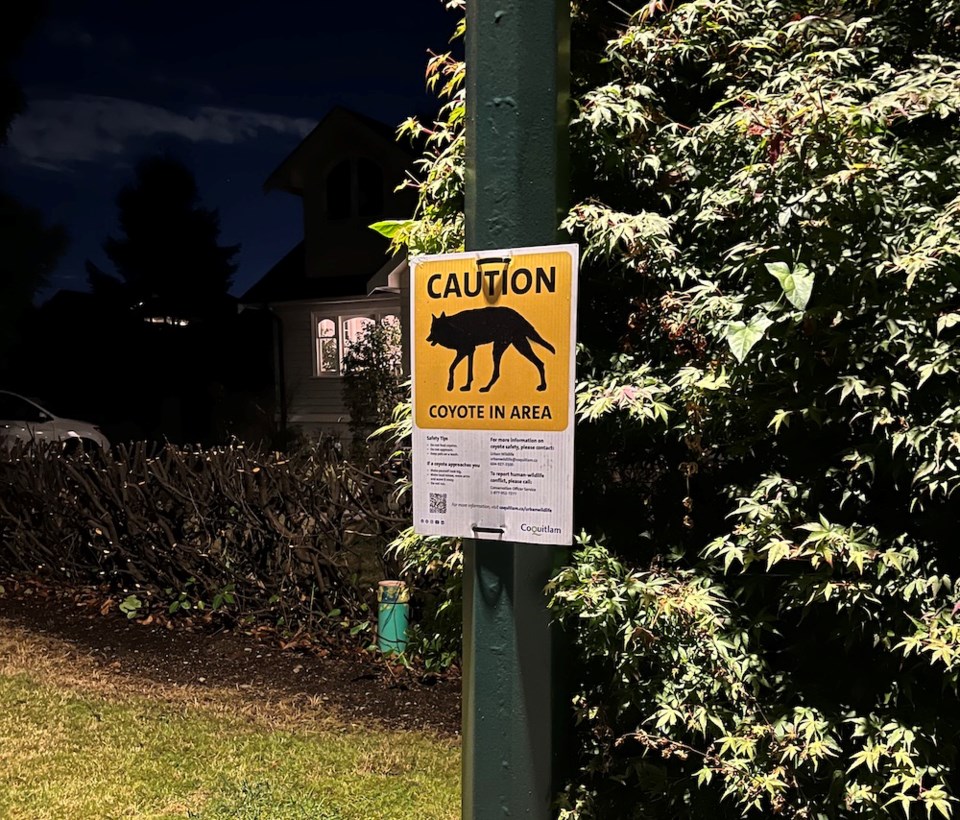 Social media reports in recent weeks also indicate a number of close calls.
On Oct. 11, someone posted on social media about a cat killed by a coyote.
"Unfortunately, this morning around 9:30 a.m. at Thermal Dr. between Baker Dr. & Park Cres I witnessed a dark grey cat with a red collar in a coyote's mouth," the commenter said.
"Hoping this sighting will allow the owners some closure from the loss of their pet."
Among the locations where coyotes have recently been seen include:
Coquitlam
Miller Park
Thermal Drive between Baker Drive and Park Crescent
Chapman Avenue (Oakdalel-Glenayre neighbourhood)
Port Coquitlam
Coquitlam River Trail between Patricia and Fraser avenues
Kelly/Atkins and Shaughnessy Street
Port Moody
Seaview neighbourhood near Tuxedo Drive
Pets 'less than 2% of coyotes' diet'
Coyote sightings are not uncommon in the Tri-Cities where the animals have adapted to the urban environment.
Last year, a coyote was photographed nonchalantly walking across the street in downtown Port Coquitlam.
While coyotes do go after pets, including cats and small dogs under 10 pounds, they do not make up a large part of a coyote's diet, according to the Stanley Park Ecology Society, which studies the animals.
On its pet safety website, the society notes notes pets make up less than two per cent of the animals' diet.
Though the risk of coyotes to pets is small, you should still take measures to keep your cat or dog safe.
Safety tips to keep dogs and cats safe:
Cats should be kept indoors to prevent them from becoming coyote prey. Cats kept indoors have longer lives.
Carry a coyote shaker (a pop can filled with 10 pennies or pebbles)
Keep your dog on leash and within sight at all times
Walk your dog in daylight in open areas with higher pedestrian activity such as busy streets and main park trails. Avoid ravines and densely vegetated areas (eg. Thick hedges or blackberry)
Walk your dog with a friend or two. This way one person can control the dog (s) safely while the other scares the coyote away
Feed your pets indoors. Do not leave pet food outside where it can attract and lure wild animals including coyotes
If you see a coyote while walking your small dog:
Pick up your dog
Yell "Go Away Coyote". This alerts others nearby that there is a coyote and gives it a scare