Thrift store shoppers seeking clothing, housewares, jewelry and home decor have more to buy — and space to buy it in — at a newly-expanded shop in Port Coquitlam run by the Eagle Ridge Hospital Auxiliary.
Located at 2811B Shaughnessy St., across from Shaughnessy Station mall, the thrift store supporting Eagle Ridge Hospital (ERH) has just doubled in size.
That means even more shoppers — and gently used donations — can fit into the shop, that has been in this location for 10 years.
"Business is good but we needed the space to be able to give our shoppers and staff a better experience," said manager Barbara Worwood.
The newly expanded store held a grand opening this week and shoppers are already showing up and marvelling at the bigger, brighter space.
Here's what's new
And unlike many other thrift stores, the Eagle Ridge Hospital Auxiliary's shop doesn't smell dusty.
That's thanks to a deep cleaning and a renovation that took place over several weeks since the store acquired the space from Hemp Hemp Hooray, which relocated.
Worwood said the all-volunteer workers have been busy organizing the space to put clothing and home decor to better advantage.
"We have great staff who like things to look nice," said Worwood.
Here's what you'll find in the new addition:
A carpeted and elegant boutique area where people can peruse racks of clothes and try them on in a change room located nearby
A large children's area offers several shelves of toys and books, while, across the aisle, well-stocked shelves display glasses, plates, silverware and art
In the original part of the store, you'll find clothing, books and seasonal items, including decor for Valentine's Day and costume jewellery.
Pricing important
Worwood said re-sellers frequent the store to find unique items to sell online, and goods are carefully researched before they are priced.
"Our customers know that everything is priced well," she added.
But there are deals to be had as well — this reporter purchased a cute, cotton flowered beach bag and a small appetizer serving dish for $7.50 including tax.
Worwood said the store is popular with seniors over 50 who come by on Tuesdays for special deals.
"You don't have to be ancient to shop." Warwood said.
There's also a loyalty stamp card for $5 off after five purchases.
Meanwhile, volunteers are busy cleaning the store, handling the cash desk or sorting items in the back room.
"It's where all the magic happens," Worwood joked.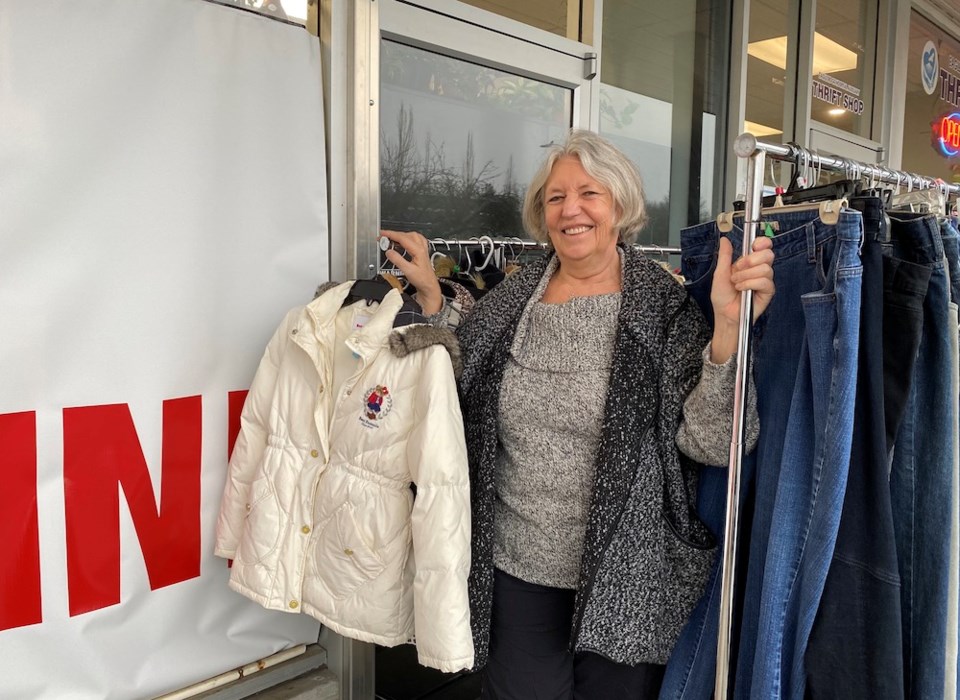 Donations needed
Indeed, on the day the Tri-City News visited, a well-dressed woman knocked on the door and handed over a bag containing bedding.
Worwood said the shop relies on donations for its success and is grateful for every item that is donated.
"We get items of exceptional quality," she said, noting that many patrons want to support the organization that raises funds on behalf of the local hospital.
In fact, the thrift store, together with the auxiliary gift shop at Eagle Ridge Hospital, typically raise as much as $80,000 a year.
Recently, the ERH auxiliary donated $250,000 to ERH Foundation for the new emergency department at the hospital.
Volunteers needed
Currently, volunteers are needed and Worwood said it's a great place for newcomers to work and learn English.
"It helps them get assimilated into the neighbourhood."
If you are interested in volunteering, you can visit the Eagle Ridge Hospital Auxiliary Thrift Shop's website for more information.
Hours of the thrift store are:
10 a.m. to 4 p.m. seven days a week.
Donations are accepted during open business hours only