The Editor,
Fake profiles, spam and identity theft in social media come up in so many in-person conversations now.
The proliferation of bots is a rapidly escalating issue which impacts real human beings.
Now, less than halfway through the year, I can recall dozens of articles published by mainstream media in 2023 regarding internet fraud.
It was devastating to get a friend request from Mary Anne Cooper earlier this week.
Upon her passing, the 107-year-old community advocate was described as "an inspiration to many" in Diane Strandberg's article published by the Tri-City News on Nov. 29, 2021.
My friend Tanya commented about her partner on my Facebook entry about this fake profile: "If someone made a fake account with his info, it would be devastating. I feel your angst."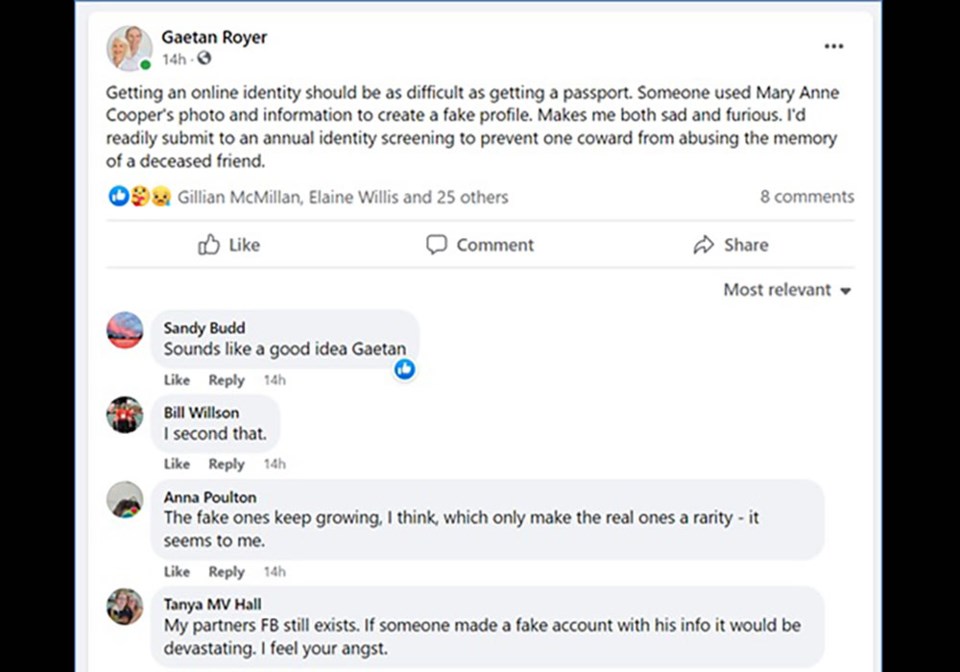 Identity theft targeting a person's digital afterlife is prevalent.
With so many people maintaining legacy profiles for loved ones, the impersonation of a deceased person is disconcertingly easy.
Facebook is not the dark web, it is an important social interaction tool. It has many community benefits: publicizing events, sharing news about the birth of a grandchild.
It is, whether we admit it or not, part of our social lives.
I suggest that, as a society, we need ID checkpoints on the internet.
Like getting a passport, getting an online identity needs to be a lot more difficult than it is today.
- Gaetan Royer, Port Moody