A bear family is back in the wilderness after they were found near a busy business area of downtown Coquitlam.
On Thursday (Sept. 1), RCMP closed traffic for several hours at the intersection of Glen Drive and Johnson Street after a sow and her two cubs were spotted up a tree just outside the Coast Capital Saving Credit Union.
The apparent black bears appeared to be chilling in the tree.
However, Mounties told the Tri-City News the area was considered a "bad spot" for them to simply roam and stay.
Members of the BC Conservation Officer Service (BCCOS) were called to the scene around 1 p.m. after multiple bystanders made a report with the RAPP line (Report All Poachers and Polluters).
The organization said all three bears were safely tranquilized before they were brought back to the forest.
"In consultation with wildlife biologists from the Ministry of Forests, the bear family was relocated to an undisclosed wilderness location, to give the animals the best chance possible," reads a BCCOS statement to the Tri-City News.
Coquitlam city crews have since been to the site to implement measures set to protect the trees.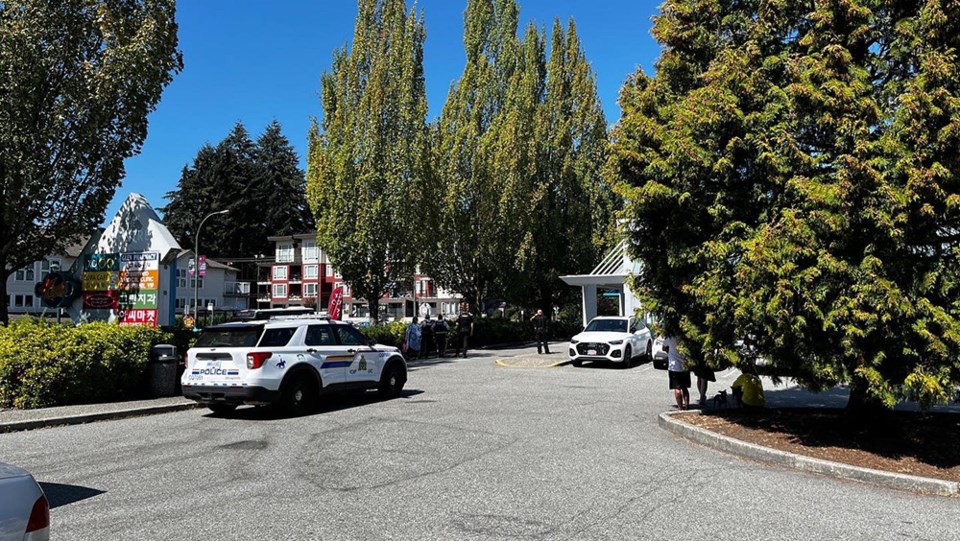 Nearly 180 bears reported in August
Meanwhile, it appears lots of bears decided to spend the final month of summer in Coquitlam.
According to WildSafeBC's Wildlife Alert Reporting Program (WARP), there were 178 bears spotted across the city between Aug. 1 and 31.
That's a 71 per cent increase in known encounters alerted to the provincial organization compared to 104 from the same month in 2021.
Most of them were just tourist sightings of the animals minding their own business but some did involve unnatural food attractants, too.
WildSafeBC also reported a total of 356 bear encounters across the Tri-Cities last month — 44 per cent more from August 2021.
Experts cite the following tips for residents in areas where these animals may frequent:
Keep your garbage in or secured until the day of collection. Garbage is the number one attractant cited in reports to the provincial hot-line
Manage your fruit trees

Don't let windfalls accumulate, and pick fruit as it ripens
If you don't want the fruit, consider...

Accessing a fruit gleaning group in your community
Washing the blossoms off in the spring so the fruit doesn't set
Replacing the tree with a non-fruit bearing variety

Don't put out bird feeders when bears are active

A kilo of bird seed has approximately 8,000 calories and is a great reward for a hungry bear

Keep your compost working properly with lots of brown materials and a regular schedule of turning
If you have livestock or backyard chickens use a properly installed and maintained electric fence to keep bears and livestock apart
The public is also being reminded to check all of your surroundings when out in the back country as bears are known to hang out in trees.